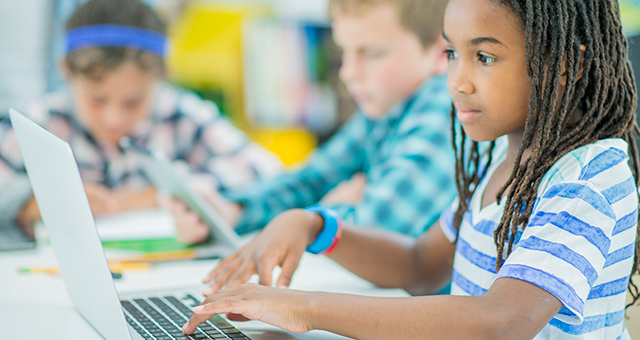 You may have already found that the T (for technology) in STEM education is a big focus in schools, including coding or computer science. There are a wealth of resources available to help kids and teens learn to code or support developing coding skills.

What is coding?
Coding or, as it is sometimes called, computer programming, is communicating with computers by creating a set of instructions for the computer to follow.
Why should you learn to code?
If you are learning to code at school, want a new creative hobby, or just want to understand how the technology around you works - you should consider learning to code! Learning to code opens new digital creativity opportunities for art, music, and more!
Programs for Kids & Teens
You can find virtual STEM and STEAM programming at the Library.
Kid's Coding Club
Online Wednesdays from 4:30 pm - 5:15 pm
Learn about the Scratch programming language and work on a coding project - find the next session on our calendar here.
Make sure to check our online calendar or our Upcoming Programs for Kids often for more from the Learning Curve each month to discover programs that support STEAM. Many programs are designed to help lay the foundations of logic and computational thinking to prepare kids to tackle coding.
Free Online Learning for Kids
Scratch
Scratch is a programming language designed to teach foundational coding skills to ages 8-16. It utilizes "drag-and-drop" coding where users manipulate blocks of code with their mouse to create their program. Multiple blocks of code are snapped together like puzzle pieces to form Scripts to create a game, display interactive animations, or create a piece of art.
Hour of Code
Hour of code is a collection of tutorials maintained by code.org.You can filter the interactive tutorials to find one that is the right skill level for your young coder!
Code Combat
Learn to code while playing a fun dungeon-crawler game. Use code to control your characters, explore a vast magical world, and develop solid coding skills in popular languages such as python and javascript. CodeCombat is free to play for all of its introductory levels.
Free Online Learning for Teens
Learn to Build a Website with FreeCodeCamp
Building a website is a great introduction to coding and can provide a great outlet for any teen's creativity. FreeCodeCamp teaches HTML and CSS with interactive, browser-based lessons. Teens can also earn certification on an in-demand skill, Responsive Web Design, by successfully building 5 projects.
Hour of Code
Hour of Code is a collection of tutorials maintained by code.org.You can filter the interactive tutorials to find one that is the right skill level for your teen!
Get Involved - Organizations In and Around Indy
Coder Dojo of Indiana
Coder Dojo of Indiana offers free, volunteer-led, community-based computer programming clubs for young people. Check our their website to find dojos near you:
Girls Who Code
Girls Who Code offers girls in 3rd-5th and 6th-12th grade an opportunity to explore coding in a friendly environment. Join a local club or dive into Code at Home activities.
Want to know more?
Choose one of these booklists form IndyPL staff to help you find more books and resources to build your coding skills!