Design your own one-of-a-kind artwork that tells all about YOU! Choose an activity and gather some art supplies. Find what you can: paper, scissors, glue, crayons, or leaves and petals you have picked up outside!

Listen to The Crayon Man by Natascha Biebow, about the man who created the crayola crayon, Edwin Binney. Edwin wanted to bring nature's colors inside and sold the first box of crayons for a nickel. Before Edwin Binney children couldn't draw in color!

---
Listen to more stories about makers and creators!
Click on a book cover to read or listen to the story.
---
Try an @Home Activity
Try one of these online or printable activities at home for even more creative fun.
Printable: Harold and the Purple Crayon
Printable: Harold and the Purple Crayon Drawing Prompt
Printable: Peg + Cat Doodle It Yourself Flip Book
Printable: Magic Treehouse Design a Book Cover
Activity: Oliver Jeffers' The Secret of Paper Makery
Video Series: Scott Magoon's Studio Storytime & Drawing
Video Series: Drawn to Fantasy with Tony DiTerlizzi
Video Series: Lunch Doodles with Mo Willems
Video Series and Activities: Dav Pilkey at Home
Video Series and Activities: Draw Everyday with JJK (Jarrett J. Krosoczka)
Make a Self-Portrait, Use a Variety of Materials. Here are some ideas to get you started!:
---
Crafting videos & tutorials you can stream w/your IndyPL library card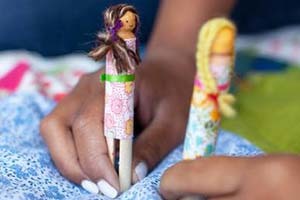 Creativebug Kids is a collection of crafting video tutorials just right for preschool and elementary makers. Select from drawing, origami, sewing, holiday decorations, and more. All you need is your library card! If you have never used Creativebug before, start here.
Or try out Kanopy Kids to find streaming videos about art for kids. Two notable choices are Art Pencils Making Stuff in which you get to see how pencils are made and The Dot, a streaming picture book video about a girl who thinks she can't draw but discovers her own creative spirit. If you have never borrowed from Kanopy before, take a look at these directions.
---
Drawing instructions for your favorite book characters
Once you have mastered drawing yourself, try one of your favorite book characters! Write and illustrate your own story starring a favorite book character and yourself!
---
Get inspired!