Do one of the activities below (or make one up yourself!) to DISCOVER ART! activity. Learn about or try a new type of art. You can paint, draw, color, build, sculpt, or any other creative expression! What did you discover?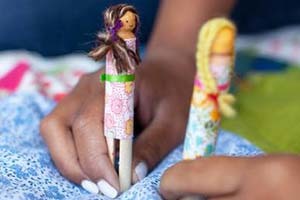 1. Try out Creativebug, a collection of crafting video tutorials you can stream with your IndyPL Library card. Creativebug is just right for preschool and elementary makers. Select from drawing, origami, sewing, holiday decorations, and more. If you have never used Creativebug before, start here.
2. Try out Kanopy Kids to find streaming videos about art you can check out with your IndyPL Library card. Two notable choices on Kanopy are Art Pencils Making Stuff, in which you get to see how pencils are made. and The Dot, a streaming picture book video about a girl who thinks she can't draw but discovers her own creative spirit! If you have never borrowed from Kanopy before, take a look at these directions.
3. Have a lot of fun making making an art project with cheap and easy to find art supplies with IndyPL's resident artist, Mr. Tony.
4. Listen to Be a Maker, read by the author, Katey Howes. It is the story of a creative kid making things by herself and with her friends. It celebrates all the ways we use our creativity all day long. What are the many kinds of things can you make in a day? You can make a block tower, you can make a blanket fort, or you can make a painting or collage. You can also make a friend, or you can make a change!
Print Katey's Be a Maker coloring page. She says, "Ask yourself this question in the morning when you wake: In a world of possibilities, today, what will YOU make?"
5. Take a class from an expert! These illustrators all have created video series for aspiring artists:

6. Make a self-portrait! Here are some ideas to get you started!
7. Once you have mastered drawing yourself, try one of your favorite book characters! Write and illustrate your own story starring a favorite book character and yourself!
You can visit any of our locations to check out books for kids. You can also use your IndyPL Library card to check out e-books and audiobooks right to your device. If you have never borrowed from one of our digital platforms before, directions are available here. There are two digital platforms that have books for kids, Axis 360 Kids, and OverDrive Kids.

Need help? Ask a Library staff member at any of our locations or call, text, or email Ask-a-Librarian.