The Indianapolis Public Library Summer Reading Program "DISCOVER!" is underway! If you have not signed up yet, you can register and get all the details for kids and teens here. Sign up, read, and earn prizes!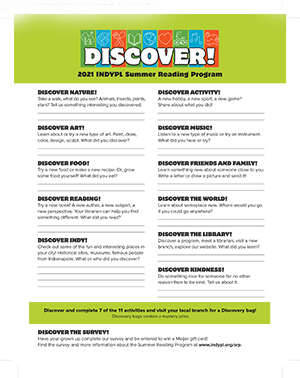 You can also earn an extra DISCOVER mystery bag by completing fun activities, like DISCOVER MUSIC! Complete 7 of the eleven activities to earn the bonus mystery bag. View or print the activities checklist in English or Spanish or pick one up at any of our locations.
Do one of the activities below (or make one up yourself!) to complete the DISCOVER MUSIC! activity. Listen to a new type of music or try an instrument. What did you hear or try? Get ideas for completing more of the eleven activities here.
1. Listen to author Denene Millner read her book, Early Sunday Morning, about a little girl named June who is preparing for a special singing performance at her church and is encouraged and supported by her family to overcome her fear of singing in front of people.
2. Listen to a Teddy Bear Concert for kids performed by musicians from the Indianapolis Symphony Orchestra! Hug your teddy and listen to The Garden Symphony, the story of a ladybug's search through the garden for her own special song, or Monkey's Jungle Jam, the adventure-filled tale of a spider monkey's search through the rainforest for musical friends.

3. Try the musical online games Peg and Cat Music Maker, Sesame Street Monster Music, Let's Go Luna, Carmen's World Orchestra, Pinkamusical Garden, or Daniel Tiger Feel the Music.
4. Make your own instrument by trying these Egg Music Makers or choosing a craft from the IndyPL Pinterest Board Musical Instruments. Find printable coloring sheets, activity sheets, and directions for how to make your instruments at home!
5. Level up your moves learning Pete the Cat's Cool Cat Boogie or level up your brain with his groovy word search.
6. Print and color this page to rock your socks off with Penelope and her guitar from We Will Rock Our Classmates.
7. Learn to make your own drums at home with this fun and easy DIY drums video from Sesame Street or follow these directions from Elmo for making a paper towel tube horn.
8. Watch the music video for "Clap, tap, tralala" by José-Luis Orozco from his Folkways album '¡Muevete!: Songs for a Healthy Mind in a Healthy Body.' Sing each verse faster than the last! You can do it! Check out one of his books or CDs! José is a frequent performer at the Library for our annual Reach Out and Read Indiana celebration. We hope to see you this year!

You can visit any of our locations to check out books for kids. You can also use your IndyPL library card to check out e-books and audiobooks right to your device at home. If you have never borrowed from one of our digital platforms before, directions are available here. There are two digital platforms that have books for kids, Axis 360 Kids or OverDrive Kids.
Need help? Ask a Library staff member at any of our locations or call, text, or email Ask-a-Librarian.