One of the best ways to help kids combat anxiety is to encourage them to ask questions. Our imaginations can often make something seem more scary than it is. Once we find out the facts and learn what to expect, even challenging things feel more doable. We have many books for kids that can help ease their fears about shots and going to the doctor. We have simple books that explain both viruses and vaccines in age appropriate ways, often starring favorite storybook and TV characters. In addition, children's hospitals all over the country have been sharing tips, tricks, and FAQs to help parents prepare kids for getting a vaccine with ease, and and at the same time, provide information that empowers parents to make confident decisions about their child's health.

Get Advice From Childhood Health Experts
You can get some great professional advice right here at home by looking at Riley Children's Hospital's What You Need to Know. If you decide to get your child vaccinated, you can schedule an appointment by calling 211 or visiting ourshot.in.gov. Several COVID-19 vaccine locations also offer walk-in appointments.
Other children's hospitals across the country have also put together information to help parents feel well-informed about child vaccinations.
---
Talk About Anxieties & Fears
Watch this video as Big Bird talks about being afraid to get has vaccine. Dr. Sanjay Gupta and Big Bird's friend Rosita (who already went to get her vaccine) give Big Bird some practical and doable ideas to help him feel less anxious. Sesame Street shares some of these tips in their Vaccine Tool Kit for kids.
---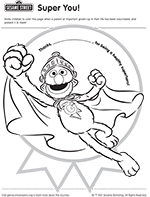 Print and Color Super Grover!
When a parent or important grown-up in your life has been vaccinated, give it to them! Explain that getting vaccinated means that grown-ups are keeping themselves, their friends and neighbors, and the whole family healthy!
---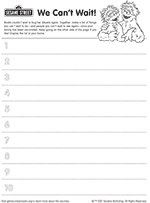 Make a list of things you can't wait to do!
Make another list of people you can't wait to see again—once your family has been vaccinated. Keep going on the other side of the page if you like!
---
Print, Color and Read Bad Kitty Gets a Shot.
This FREE black and white downloadable story is a fun way to engage kids while also emphasizing the importance of good health. Print it out, read it aloud, and color the pages!
---
Watch the CNN/Sesame Street Town Hall Video Series
CNN recently hosted a town hall for kids. Correspondent Erica Hill welcomed Dr. Sanjay Gupta along with Big Bird, Elmo, Rosita, and Abby Cadabby to answer questions straight from kids about COVID-19 and also share some helpful tips.
Part 1: Dr. Leana Wen, an emergency physician, answers questions from children all over the world about what the coronavirus is and how they can stay safe.
Part 2: Dr. Sanjay Gupta helps Elmo understand why face masks and hand washing are important ways to stop the spread of coronavirus.
Part 3: Abby Cadabby, Grover, and Rosita show kids at home how they manage some of the big feelings they've been having about COVID-19 and about getting a shot.
---
Read Books!
Pair up this information with some books from our collection that help both kids and parents understand how vaccines work and also get tips and tricks for making a visit to the doctor's office less anxious. Learn more at: