Empathy is the ability to understand or feel what another person is experiencing from the other person's point of view. It is imagining how someone else is thinking or feeling as well as understanding that other people have feelings and those feelings count. By mastering empathy children develop compassion and the ability to make friends.
We often ask children to think about "walking in someone else's shoes" to help them learn to consider the feelings and experiences of others, like being polite to others, even when you are in a bad mood. Picture books are a great way to help children develop empathy. Through them, children can live the experiences of someone else. Anna Dewdney, author of the Llama Llama books, is well known for speaking about the role picture books can play in the development of empathy in children.
"When we open a book, and share our voice and imagination with a child, that child learns to see the world through someone else's eyes." ~ Anna Dewdney, The Wall Street Journal: How Books Can Teach Your Child to Care
Listed below are several picture books that celebrate the differences of others and highlight the experience of empathy as well as the friendships and strength of community that result from it.
---
Websites, Activities & Printables:
---
Books:
Use your indyPL Library Card to check out books at any of our locations, or check out e-books and e-audiobooks from home right to your device. Click on a book jacket below to request a book or download it. Need help? Call or ask a Library staff member at any of our locations or text a librarian at 317 333-6877.
All Kinds of Families - Families of all shapes, sizes, and colors, including celery stalks and buttons, are presented in this colorful picture book celebrating the diversity, familiarity, and importance of togetherness.
---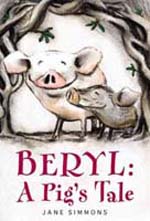 Beryl: a Pig's Tale - Tired of being mistreated and cooped up, Beryl the piglet escapes her farm and meets a group of wild pigs, whose settlement splits up over the decision of whether to let her stay, and with her new "family" she sets out to find a new home.
---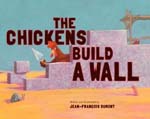 The Chickens Build a Wall - When a friendly hedgehog visits the farm, the chickens build an enormous wall to keep out "prickly invaders.
---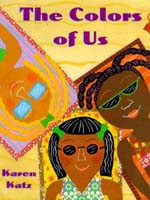 The Colors of Us - Seven-year-old Lena and her mother observe the variations in the color of their friends' skin, viewed in terms of foods and things found in nature.
---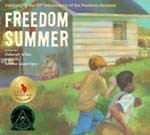 Freedom Summer - In 1964, Joe is pleased that a new law will allow his best friend John Henry, who is black, to share the town pool and other public places with him, but he is dismayed to find that prejudice still exists.
---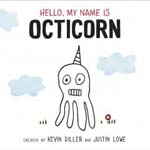 Hello My Name is Octicorn - The octicorn-- half octopus and half unicorn-- introduces himself and tells readers why, though strange and unique, octicorns make great friends.
---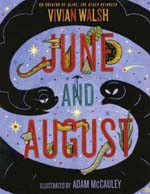 June and August - Two animals who share a love of the night sky meet in the daylight and are surprised to discover how different they are.
---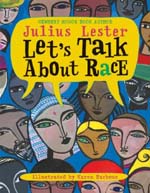 Let's Talk about Race - The author introduces the concept of race as only one component in an individual's or nation's "story."
---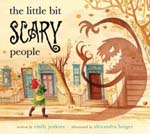 The Little Bit Scary People - Some people are a little bit strange or a little too loud, and just a little bit scary. But I bet, if you knew them, and knew their favorite things, you'd think that maybe, (probably) most people aren't so scary after all.
---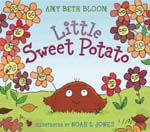 Little Sweet Potato - A sweet potato, lost and trying to get back home, rolls down the road looking for other vegetable and flower patches, trying to fit in. Told repeatedly he's lumpy and bumpy and doesn't belong, Little Sweet Potato finally finds acceptance at the "hodge-podge patch" (a garden).
---
Looking After Louis - When a new boy with autism joins their classroom, the children try to understand his world and to include him in theirs.
---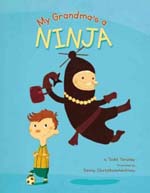 My Grandma's a Ninja - When Ethan's grandma suggests they take a zip line to school, Ethan realizes that his grandma is a little different. In fact, she's a ninja! Ethan is soon the hit of the school when his grandma drops from the ceiling at show-and-tell, and teaches the kids karate moves and how to do backflips in slow motion. But when his grandma deflates his team's soccer ball, everyone is upset--including Ethan. Why can't he just have a regular grandma? But when Ethan tries out his new karate moves during the championship game, he's happy that his grandma isn't ordinary.
---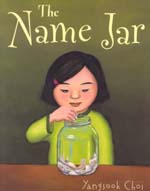 The Name Jar - After Unhei moves from Korea to the United States, her new classmates help her decide what her name should be.
---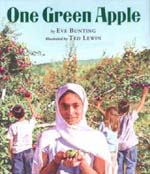 One Green Apple - While on a school field trip to an orchard to make cider, a young immigrant named Farah gains self-confidence when the green apple she picks perfectly complements the other students' red apples.
---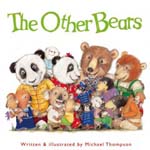 The Other Bears - Mother and Father Koala are suspicious of the 'other' bears. They don't like the panda bears and they don't trust the polar bears. But their grumpiness melts away as they watch their little Koalas play together with 'other' bears.
---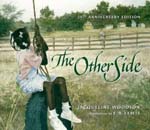 The Other Side - Two girls, one white and one black, gradually get to know each other as they sit on the fence that divides their town. Young Hoosier Book Award, 2004-2005, K-3 Nominee.
---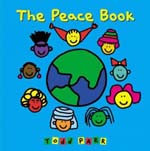 The Peace Book - Describes peace as making new friends, sharing a meal, feeling good about yourself, and more.
---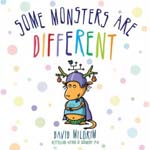 Some Monsters are Different - A warmhearted celebration of individuality describes the many differences found among monsters, from beasts who are picky or will eat anything to creatures who chatter or remain quiet, explaining that all monsters are wonderful just the way they are.
---
The Sneetches - The Star-Belly Sneetches think they are the best, and look down upon Sneetches without stars. The Plain-Belly Sneetches remain depressed and oppressed, prohibited from associating with their star-bellied counterparts, until Sylvester McMonkey McBean comes along & begins to give stars to the Plain-Belly Sneetches. The original Star-Belly Sneetches are angry at no longer being different and special, so they get Sylvester to remove all their stars. This continues back and forth until no one can remember which Sneetches were originally what, and an epiphany strikes them all at once: that it really doesn't matter whether a Sneetch has a star belly or not - they are all really the same, and can coexist and be friends with one another.
---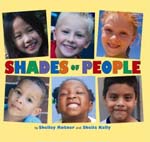 Shades of People - Explores the many different shades of human skin, and points out that skin is just a covering that does not reveal what someone is like inside.
---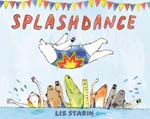 Splashdance - Ursula, a bear, and Ricardo, a human, are preparing for the water ballet competition. But a new regulation at the community pool--no bears--leaves Ursula cut from the contest. Luckily, she encounters a group of undaunted animal swimmers at a local pond, and Ursula and her new team figure out a way to participate in the competition and make sure everyone is welcome at the pool once and for all.
---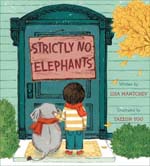 Strictly No Elephants - A boy is excluded from joining his friends' pet club because of his unusual pet.
---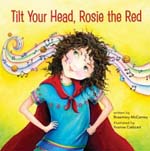 Tilt Your Head, Rosie Red - Classmate Fadimata is teased because of her hijab until Rosie a high-energy child who wears a red cape, listens carefully and always tries to see things "from every angle," finds a way to celebrate Fadimata's unique head covering, inspiring others to follow suit.
---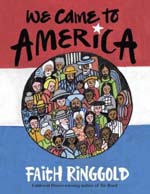 We Came to America - Celebrates United States immigration and the country's diverse immigrant heritage.
---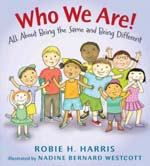 Who We Are - Join Nellie, Gus, baby Jake, and their parents at Funland as they go on rides, watch performers, and play games along with many other children and grown-ups. As they enjoy their excursion, they notice that people are the same as one another in lots of ways, and different in lots of ways too. Helps children realize why it's important to treat others the way they want to be treated whether a person is a lot like you or different from you, a good friend or someone you have just met or seen for the first time.
---
Whoever You Are - Despite the differences between people around the world, there are similarities that join us together, such as pain, joy, and love.
---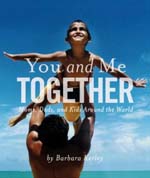 You and Me Together: Moms, Dads, and Kids Around the World - From a festival in India to a bus in Germany, from a park in China to a campfire in Australia, loving moms, dads, and kids share their lives.
---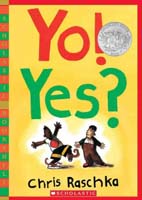 Yo! Yes? - Two lonely characters, one black and one white, meet on the street and become friends.