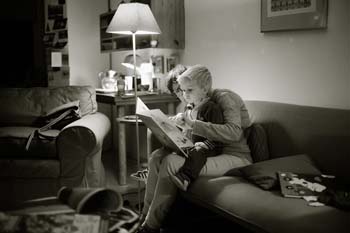 "We're going over in a safe area," she told the 5-year-olds. Then, she opened a book and started to read." ~Kindergarten Teacher, Sandy Hook Elementary School
Events in the news may cause children who are aware of them anxiety or fear. We offer you what we can during these difficult moments and that is the comfort and security that time spent with you and good book can provide. Come. Open a book. Start to read. Hold them close and revisit old friends together; Curious George, The Cat in the Hat, Arthur, The Little Engine That Could.
Or stay at home and do the same. Find the books in the bookcase with the dog-eared pages and the tell-tale bite marks on the spine; the ones you can probably recite without looking at the pages. Choose the one with the coffee ring on the cover for having been on the bedside table every night.
Favorite stories are steadfast old friends to count on in times of trouble.
In addition, the books listed below are designed to help you talk through fear and trauma with your child.
It is clear from the resources we have gathered below that one of the best things we can all do is simply reassure children that many people - their family, their teachers, their neighbors, the people at day care or church or the library love and care about them and are looking out for their safety.
"Piglet sidled up to Pooh from behind. "Pooh?" he whispered. "Yes, Piglet?" "Nothing," said Piglet, taking Pooh's hand. "I just wanted to be sure of you." ~ A.A. Milne, Winnie-the-Pooh