Professional Advice about Helping Children Cope with Violence and Tragic Events: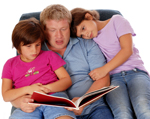 While favorite stories are comforting and familiar, you may find that it would be helpful to read a book together that helps your child understand feeling afraid or anxious; or answers questions he or she might have about death. Below are several children's books that address separation anxiety, fear and grief. These are just a small sampling to show you the kinds of books that are available.
Also listed are some parenting books about helping a child cope with anxiety. Click on any book jacket to go directly to the online catalog to make a request with your IndyPL Library Card, or visit any of our branch locations. IndyPL librarians would be happy to help you find books like these.
NOTE: The first two titles, Owl Babies and The Kissing Hand, you can watch right now online - no waiting. Both are about learning to cope with separation anxiety.
Videos:
Watch Right Now: Owl Babies - Three baby owls panic when they awaken one night and find their mother gone, worrying about what has happened to her and becoming frightened by all the scary things that surround them in the dark. Book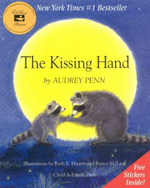 Watch Right Now: The Kissing Hand - When Chester the raccoon is reluctant to go to kindergarten for the first time, his mother teaches him a secret way to carry her love with him. Book
Picture Books:
The Breaking News - When devastating news rattles a young girl's community, her normally attentive parents and neighbors are suddenly exhausted and distracted. At school, her teacher tells the class to look for the helpers-the good people working to make things better in big and small ways. She wants more than anything to help in a BIG way, but maybe she can start with one small act of kindness instead ... and then another, and another. Small things can compound, after all, to make a world of difference.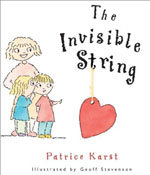 The Invisible String - When Liza and Jeremy run to their mother during a scary storm, she comforts them by telling them about the Invisible String, which connects people who love each other no matter where they are and means that they are never alone.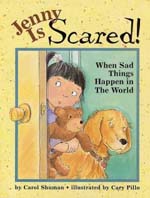 Jenny is Scared - When Jenny and her brother are frightened by events in the world, their parents help them talk about their fears and feel better.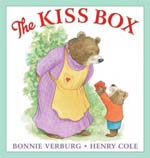 The Kiss Box - As they prepare for a short separation, Mama Bear and Little Bear find a way to reassure each other while they are apart.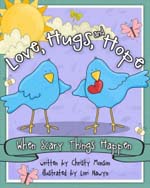 Love, Hugs & Hope When Scary Things Happen - Helps children identify feelings that overwhelm them with anxiety and despair. Explains that sometimes bad things happen and good people are hurt. Children feel fear, sadness, and anger. The book teaches that there are ways of dealing with these emotions.
Love Waves - While they are at work a mother and father send powerful "love waves" to their child at home, offering reassurance and comfort in their absence.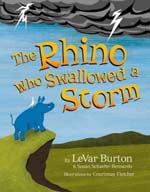 The Rhino Who Swallowed a Storm - When little Mica is frightened by a storm, her father tells her the story of a rhino who was feeling lost and alone, until he learns that with the love of family and friends, there will always be help during tough times. e-Book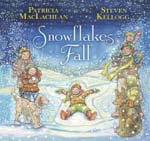 Snowflakes Fall - In this illustrated poem in honor of the victims of the 2012 shooting in Newtown, Connecticut, falling snowflakes celebrate the uniqueness of life, its precious, simple moments, and the strength of memory. Print, e-Book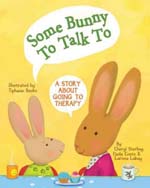 Some Bunny To Talk To - When Little Bunny's problem makes him feel sad and fearful, he goes to a therapist for help. Includes note to parents. e-Book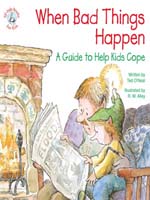 When Bad Things Happen: A Guide to Help Kids Cope - Truly bad things happen in life. And while we cannot shelter children from every hurt and harm, we can reassure them that they will always be loved and cared for. We can teach children the skills needed for coping with life's biggest challenges and changes. And we can restore children's trust that life, after all, is good. e-Book