This Tinker Station blog post was written by Erin Murphy, Supervisor Librarian at Irvington Library. Lately, Erin has enjoyed exploring the library's graphic novel collections and streaming services.

I hadn't used Hoopla for a while and I recently rediscovered the wealth of materials that are available on it. I turned on the Kid's Mode - look in the upper right corner of the computer screen to select it.
Kid's Mode is specially designed for use by children up to age 12. Items intended specifically for adults don't show up in Kid's Mode, for example all movies are rated G or PG.

I searched for items I could use with IndyPL's Discover! Summer Reading Program activities. One of the Summer Reading Program activities is Discover Nature! Here are a few of the kid friendly e-books I found on Hoopla that would be great to explore: How to Build an Insect by Roberta Gibson and Anne Lambelet, and Trout are Made of Trees by April Pulley Sayre.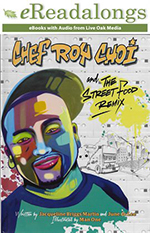 For the Discover Food! activity I found Chef Roy Choi And The Street Food Remix by Jacqueline Briggs Martin, June Jo Lee and Man One. In this read-along book about L.A. street cook Roy Choi, each word is highlighted as it is read aloud.
For Discover Reading! there are lots of items to pick from, comics such as Lola: A Ghost Story by J. Torres and e-books like A Kid's Guide to Chess by Ellisiv Reppen and Flu Hartberg.
For Discover Music! you could listen to music such as Kidz Bop 2021 and Daniel Tiger's Neighborhood : Tiger Family Trip. There are also streaming movies such as Pokemon: the First Movie and A.X.L.
Items can be downloaded through the Hoopla app on a mobile device for use when not connected to the internet. Browsing is easy. The Advanced Search feature is good for finding materials on specific topics. I also appreciated the many items available in Spanish and French.
Have questions? Try these Hoopla directions, watch this video tutorial, or call, text, or email Ask-a-Librarian. We are here to help you find what you need and make the most of Library resources!