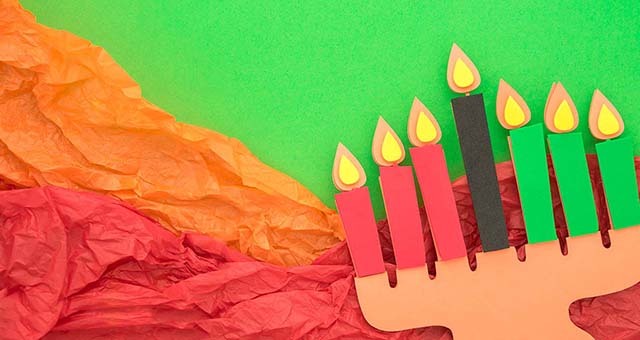 Kwanzaa is a celebration that honors African heritage. It is observed from December 26th to January 1st, including a feast on December 31st called Karamu. Kwanzaa celebrations include singing, dancing, storytelling and African drums. To learn more about Kwanzaa's roots in ancient African customs and how it is celebrated, watch the PBS Learning Media video All About the Holidays: Kwanzaa and this Sesame Street video during which a family shares how they celebrate Kwanzaa together.
Read together!
Listen together as author Ibi Zoboi reads aloud, The People Remember, with illustrations by Loveis Wise. It uses the seven principles of Kwanzaa called Nguzo Saba, to share the history of African descendants in America from the time their ancestors arrived in America to the present day. The seven principles are:

1. Umoja (Unity)
2. Kujichagulia (Self-Determination)
3. Ujima (Responsibility)
4. Ujamaa (Cooperative economics)
5. Nia (Purpose)
6. Kuumba (Creativity)
7. Imani (Faith)
You can also listen to author Donna L Washington read Li'l Rabbit's Kwanzaa, a story that introduces the holiday and celebrates the true meaning of Kwanzaa - coming together to help others.
Use your IndyPL library card to check out e-books, audiobooks, and other streaming content about Kwanzaa from home, right to your device. See our digital Kwanzaa collection from on OverDrive Kids, or come visit us! Below is a selection of Kwanzaa books for kids to help you get started! If you have never used OverDrive before, you can learn how to use it for both e-books and audiobooks.
Need help? Ask a Library staff member at any of our locations or call, text, or email Ask-a-Librarian. The Tinker Station helpline at (317) 275-4500 is also available. It is staffed by device experts who can answer questions about how to read, watch and listen on a PC, tablet or phone.