In L'il Rabbit's Kwanzaa, L'il Rabbit is having a rough Kwanzaa. He loves the big Kwanzaa feast called Karamu but he may miss it because his grandmother isn't feeling well. Instead of feeling sorry for himself, L'il Rabbit remembers that Kwanzaa is a time for helping. He tells his animal friends that his Grandma is ill and the animals show up with food and gifts to help L'il Rabbit and his Grandma celebrate anyway. Kwanzaa is a relatively new holiday, but its roots run deep in African tradition by incorporating several different celebrations into one.

Listed below are more Kwanzaa stories to check out with your library card and activities you can share with your kids to celebrate spirit of Nguzo Saba (The Seven Principals of Kwanzaa). For more family fun, come join us for our annual Kwanzaa celebration at Central Library. This event is free and open to the public. All people are welcome!
The Kwanzaa Umoja Village Festival celebration will feature spoken word performances, African dancers and drummers, a Kinara (candle) lighting ceremony, Queen Mother procession, musical acts, activities for children, cultural foods, and assorted vendors.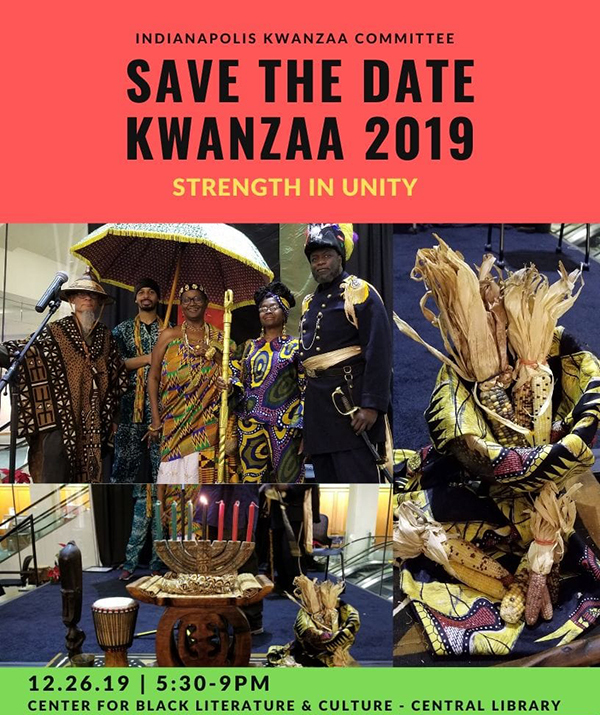 ---
FREE Online Reading:
---
Websites, Activities & Printables:
---
Books:
Use your indyPL Library Card to check out books at any of our locations, or check out e-books and e-audiobooks from home right to your device. Need help? Call or ask a Library staff member at any of our locations or text a librarian at 317 333-6877.