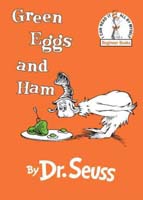 Kids are notorious picky eaters. Their first rejections are often vegetables...broccoli, asparagus or brussels sprouts. One of the best strategies for diffusing kid-powered stubbornness, is humor! Many picky eater stories are just plain funny. In Gregory the Terrible Eater,
Gregory the goat's parents are upset because he won't eat trash! He wants to eat junk, like fruits...and vegetables! This kind of opposite silliness is appealing to kids. It also helps them see their food rejection from another point of view.
D.W. the Picky Eater is the story of a child only wanting to eat certain things. When D.W. FINALLY tries something new and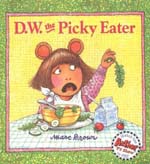 declares it delicious, she finds out something she doesn't like is in it! (Watch PBS Arthur Video: D.W. the Picky Eater.) The look on D.W.'s face when she discovers this will get a laugh! This classic scenario, finding out you DO actually like something once you try it, also happens to Sam, in Green Eggs and Ham. He is a lot like D.W. He does not want to try anything new...until he does...and he likes it! You can also watch this classic Dr. Seuss story right now, read aloud by Rachel Ray. More great picky eater books are listed below.