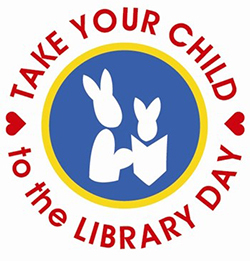 Come visit us on February 4 for Take Your Child to the Library Day. We will have free, fun, fabulous activities to enjoy at all of our locations! The Library is a great place to play, discover, make friends, and have fun!
Stop in for a visit.
Enjoy the activities.
Get a library card (they're free!)
Meet your children's librarian!
Then stop in again soon – because every day is a great day to take your child to the library!
We love all books and we cannot lie! Library Lion, by Michelle Knudsen, is one of our all-time favorite stories to share with children about libraries. The lion's favorite thing is storytime. He likes it so much he ROOOOARS in protest when it is over! Some kids do that too! Ha! You can listen to Mindy Sterling read Library Lion right now! There are even more stories and activities listed below. Enjoy them right now and then come see us on Take Your Child to the Library Day!

Talk!
After listening to the story, talk about some of the things that happened in it.

Did you think the librarian was going to say the lion had to leave the library?
How did people react when they first saw the lion in the library?
What are some of the library rules Miss Merriweather is particular about? Does your library have the same rules?
What kinds of things does the lion start to do to help out?
What was the lion trying to say when he roared during storytime?
---

Read!
Children love substitution stories like this one when someone or something unlikely, like an animal or a robot or an alien, drops into regular life like it happens all the time. In this story the lion does exactly what children do. He makes mistakes until he learns the rules and he wants to keep doing what he likes. The funny parts happen when he acts how a lion would, like roaring loudly when he is disappointed that story time is over. (Tip: another very funny substitution story is called We don't Eat Our Classmates about a dinosaur who goes to school and has to learn the rules.)

Click on one of the book covers below to listen to more library stories read aloud.

Find more FREE online reading at 100+ Free Video Read Alouds or try storytime at home!
Use your indyPL Library Card to check out books about books and libraries at any of our locations, or check out e-books and e-audiobooks from home right to your device. If you have never used OverDrive before, you can learn how to it for both e-books and audiobooks.
Need help? Ask a Library staff member at any of our locations or call, text, or email Ask-a-Librarian. The Tinker Station helpline at (317) 275-4500 is also available. It is staffed by device experts who can answer questions about how to read, watch and listen on a PC, tablet or phone.
---

Sing!
Enjoy a whole album of songs from the New York Public Library called NYPL Sings.
---
Write!
Find some crayons or makers to color a picture, practice writing the letters, or see if you can follow your way through a maze without getting stuck.

---

Play!
Gather some stuffed toys (a lion if you have one!) or dolls and have a storytime of your own at home. Make pretend library cards for each of them. Read them one of your favorite books from home or from the Library.


---

---