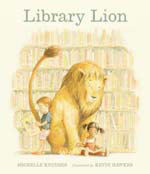 We love all books and we cannot lie! These stories are double favorites - books about books and books about libraries because we love both!
One of our all-time favorites to share with children is Library Lion, the story of a lion who wonders into the library. Some people at the library think the lion shouldn't be there, but since he isn't breaking any rules the librarian says, "then leave him be." We love her! If you are following the rules you are welcome at the library! The lion discovers he really likes the library, especially story time. He likes it so much he ROOOOARS in protest when it is over! Some kids do that too! Ha! You can watch the video read aloud below to hear Library Lion right now!

Children love substitution stories like this one when someone or something unlikely, like an animal or a robot or an alien, drops into regular life like it happens all the time. In this story the lion does exactly what children do. He makes mistakes until he learns the rules and he wants to keep doing what he likes. The funny parts happen when he acts how a lion would, like roaring loudly when he is disappointed that story time is over. (Tip: another very, very funny substitution story is called We don't Eat Our Classmates about a dinosaur who goes to school and has to learn the rules.)
Listed below are more book and library stories you can read right now. Just click on a book cover to open it and hear the story. We have also listed some printables and online activities you can do at home.
FREE Online Reading:
More FREE Online Reading:
---
Websites, Printables & Activities:
---
Books:
Use your indyPL Library Card to check out books at any of our locations, or check out e-books and e-audiobooks from home right to your device.
e-Books and audiobooks about libraries from Axis 360 Kids
Need help? Call or ask a Library staff member at any of our locations or text a librarian at 317 333-6877.