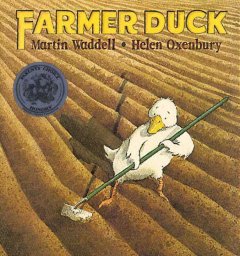 Today is a great day to get outside! Take a favorite book and find a park bench, swing or blanket. You might even find a place you can watch some ducks. Indy with Kids has a great list of 8 Places to Find Ducks in Indy. The article talks about feeding them, but did you know the Indiana Department of Natural Resources and other conservation groups say that for the good of the ducks, we all need to stop hand feeding them? Bread is especially bad for them! Here are two really great article that explains why hand feeding is bad for ducks and geese:
That doesn't mean you can't enjoy them though. You can learn what food might be healthy for them. You can watch them and also take some pictures! While you are out, point out the ducks you see and hear. How does a duck look different than a goose? What colors are their feathers? What sounds do ducks and geese make? How many ducks can you count?
You can listen to the story Farmer Duck by Martin Waddell right now. Listed below are some more free online eBooks & activities about ducks as well as several eBooks you can check out with your IndyPL Library card.