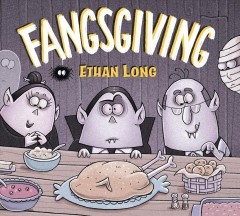 Here are some of our favorite books to share with kids in the days leading up to Thanksgiving. You and your child can learn about the history of Thanksgiving, learn about Thanksgiving from an American Indian perspective, read prayers and songs of gratitude from different religious and cultural traditions, learn to draw iconic Thanksgiving symbols, or laugh out loud at what Thanksgiving dinner might be like for monsters. Garlic is OK for a recipe ingredient, but not eyeballs! Laugh again when you find out what happens when someone (everyone!) forgets to bring their dish to Thanksgiving dinner!

Watch the video read aloud below, read by Marc Maron. Turkey is in trouble! It's almost Thanksgiving... and he's the main course. But Turkey has an idea--what if he doesn't LOOK like a turkey? What if he looks like another animal instead? After many funny attempts, Turkey comes up with the perfect disguise to make this Thanksgiving the best ever!

Keep your eyes peeled during the Macy's Thanksgiving Day parade to see if you can spot a favorite book character! Some character balloons we have seen in the past are Curious George, Snoopy, Paddington Bear & Greg from Diary of a Wimpy Kid.

FREE Online Reading:
Just click on a book cover to get started!
More FREE Online Reading:
---
Websites, Printables & Activities:
---
Books:
Use your indyPL Library Card to check out books at any of our locations, or check out e-books and e-audiobooks from home right to your device.
Need help? Call or ask a Library staff member at any of our locations or text a librarian at 317 333-6877.
Favorites Recommended by IndyPL Librarians: