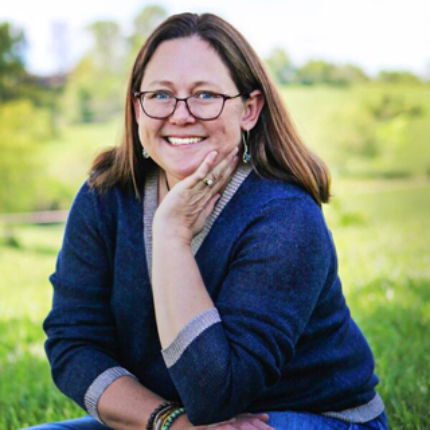 Six writers with Indiana ties have been named winners and finalists of the 2018 Eugene & Marilyn Glick Indiana Authors Award, a program of The Indianapolis Public Library Foundation funded through The Glick Fund, a fund of Central Indiana Community Foundation.

The winner of this year's $10,000 National Author Award is New York Times bestselling children's author Kimberly Brubaker Bradley, a former Ft. Wayne and Indianapolis resident whose 16 books for young readers include The War That Saved My Life, a Newbery Honor Medalist. Bradley is thrilled to be recognized for the award.
"Libraries were a huge part of my life," said Bradley. "In Indianapolis, the Library printed lists of upcoming new releases; I kept careful watch so I could always check out the new Dick Francis novels the day they were released."
Indianapolis native Sandy Eisenberg Sasso has been named winner of the $7,500 Regional Author Award. Sasso, director of the Religion, Spirituality and the Arts Initiative at the IUPUI Arts and Humanities Institute, is the author of two books for adults and 16 award-winning children's books, including two starred reviews from Publishers Weekly and recipient of the 2006 Best Books of Indiana Award.
Owen County resident James Alexander Thom is the winner of the $2,500 Lifetime Award. Thom's carefully researched novels have sold more than 2 million copies. Follow the River, a 1981 novel about a pioneer woman captured by Shawnee Indians became a New York Times bestseller and is now in its 50th printing. His most recent book, Fire in the Water, is about the sinking of the steamboat Sultana during the Civil War.

Emerging Author Award finalists are Deborah E. Kennedy of Ft. Wayne, Elizabeth Klehfoth of Elkhart and Azareen Van der Vliet Oloomi of South Bend. All winning authors and finalists will be honored at the ninth annual Indiana Authors Award Dinner on Saturday, October 13, 2018 at Central Library. In addition to prize winnings, the winning authors will receive a $2,500 grant for the public library of his or her choice.
This annual award program recognizes Indiana authors' contributions to the literary landscape in Indiana and across the nation. A nine-member, statewide panel selected the winners from a pool of publicly nominated authors.

Tickets are available for the Award Dinner, with proceeds benefitting the Library Foundation. In addition, the public is invited to participate in the free "Meet the Author, Be an Author" event on October 14, which will include author talks and workshops for writers and booklovers of all ages led by the Indiana Writers Center and other guests.
For more information about the Indiana Authors Award and festivities, visit indianauthorsawards.org.