2018 Indiana Authors Award Winners Honored
10/19/2018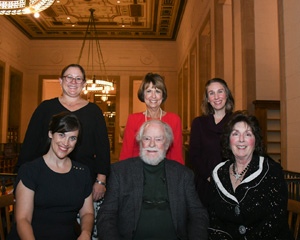 Four authors with Indiana ties were celebrated as winners of the 2018 Eugene & Marilyn Glick Indiana Authors Award on October 13 during the Indiana Authors Award Dinner at Central Library. The Indiana Authors Award is a program of The Indianapolis Public Library Foundation funded through The Glick Fund, a fund of Central Indiana Community Foundation.

Kimberly Brubaker Bradley of Fort Wayne was recognized as the $10,000 National Author Winner. Her 16 books for young readers include The War That Saved My Life, a Newbery Honor Medalist. Indianapolis native Sandy Eisenberg Sasso was named the $7,500 Regional Author Winner. The $5,000 Emerging Author Award was presented to Fort Wayne native Deborah E. Kennedy. Additionally, Owen County resident and recipient of the first Indiana Authors Award in 2009, James Alexander Thom, received the Lifetime Achievement Award. Thom's carefully researched novels have sold more than two million copies. His most recent book, Fire in the Water, is about the sinking of the steamboat Sultana during the Civil War.

In addition to a cash prize, each winner's chosen Indiana public library will receive a $2,500 grant from The Indianapolis Public Library Foundation. The Owen County Public Library, the Georgetown and Little Turtle branches of the Allen County Public Library, and the Nora Branch of The Indianapolis Marion County Public Library will receive grants. Since the Award's inception, selected authors have won a total of $237,000, and selected libraries have received $87,500 in grants.

"We are incredibly proud of every Indiana Authors Award recipient and nominee over the past 10 years," said Marianne Glick, Director at the Eugene & Marilyn Glick Family Foundation. "The Glick family is truly gratefully for The Indianapolis Public Library Foundation's leadership and commitment to Gene and Marilyn's vision. As the Indiana Authors Award prepares for the next 10 years, we will be looking for ways the award can impact even more people throughout Indiana."

Award nominations were submitted from across the state in early spring. Any published writer who was born in Indiana or who had lived in Indiana for at least five years was eligible. A statewide Award Panel selected the winners and finalists from a pool of publicly nominated authors that increases each year.