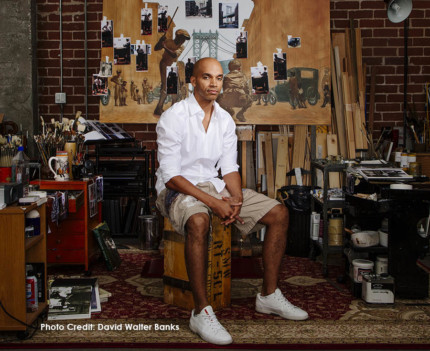 Newly-named Caldecott Medalist for children's book illustration Kadir Nelson will present The Indianapolis Public Library Foundation's 43rd annual Marian McFadden Memorial Lecture on Thursday, April 30 at 7 p.m. at the Warren Performing Arts Center, 9500 E. 16th Street.
In addition to the Caldecott Medal for his illustrations in The Undefeated written by Kwame Alexander, Nelson's contributions to the book earned him the 2020 Coretta Scott King Illustrator Award. The book also was named a 2020 Newbery Honor Book for children's literature.
Nelson, illustrator and/or author of more than 30 picture books, began drawing at the age of three. His career was launched as a conceptual artist for Steven Spielberg's film, Amistad. His paintings can be found in such institutions as the U.S. House of Representatives and the National Baseball Hall of Fame.
Nelson's many covers for The New Yorker magazine include a portrait of Nelson Mandela. He not only illustrated but authored the 2008 Coretta Scott King Award-winning book, We Are the Ship: The Story of Negro League Baseball, which was featured on the cover of Sports Illustrated.
Several of Nelson's designs have become commemorative stamps for the U.S. Postal Service, featuring such notable persons as Marvin Gaye, Wilt Chamberlain, Joe Dimaggio and Richard Wright. He also created cover art for albums by the recording artist Drake and a posthumously-released album for Michael Jackson.
The Marian McFadden Memorial Lecture, made possible by Friends of the Library through gifts to The Indianapolis Public Library Foundation, has featured many of the nation's leading authors, including John Irving, James Baldwin, Kurt Vonnegut, Jr., Patricia Cornwell, David McCullough, Neil Gaiman, Khaled Hosseini, Doris Kearns Goodwin, Jacqueline Woodson and Junot Díaz. The 2019 lecture featured New York Times bestselling author, journalist and Black Panther graphic novel writer Ta-Nehisi Coates.
Books will be available for purchase at the event through Kids Ink children's bookstore, with Kadir Nelson available for autographs.
The McFadden Lecture is free to the public, but tickets are required for admission. Information about tickets will be updated on The Indianapolis Public Library's blog.