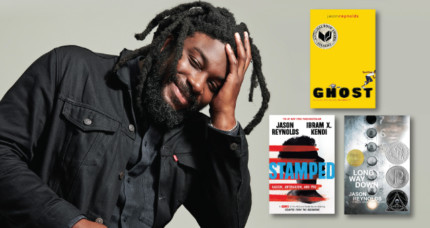 The Library of Congress' 2020 National Ambassador for Young People's Literature, author Jason Reynolds, is bringing an engaging conversation about reading, writing, life, race, family, and everything in between to The Indianapolis Public Library for an online event at 6:30pm on October 27. The event will be live-streamed on the IndyPL Facebook and YouTube pages, and be hosted by local media personality Ebony Marie Chappel.
Inspired by rap music, Jason Reynolds began writing poetry at age nine while growing up in Maryland, and went on to publish several poetry collections before publishing his first novel, When I Was the Greatest. Since then, Reynolds has been a New York Times bestselling author whose novels and poetry are well-loved by tweens, teens, and adults alike. Notable works include titles such as Ghost; Long Way Down; Look Both Ways: A Tale Told in Ten Blocks; Miles Morales: Spider-Man; and several entries in the best-selling Track series. He is a two-time National Book Award finalist; the recipient of a Newbery Honor, a Printz Honor, and multiple Coretta Scott King Honors; and the winner of a Kirkus Prize, two Walter Dean Myers Awards, and an NAACP Image Award, among many other honors.
Jason Reynolds recently worked with author Ibram X. Kendi to write Stamped: Racism, Anti-Racism, and You, an adaptation for young adults based on Kendi's acclaimed Stamped from the Beginning. The book explores how racist ideas started, how they came to be woven into the fabric of the United States, and how they can be discredited. The Indianapolis Public Library is currently wrapping up an all-staff read of Reynolds' Stamped: Racism, Anti-Racism, and You as part of organization-wide efforts to better understand the deep roots of racism and inequity in the United States.
"An Evening Online with Jason Reynolds" is free and open to the public with no registration required, and will feature American Sign Language interpretation. It is made possible by The Library Fund, a fund of The Indianapolis Foundation through a grant to The Indianapolis Public Library Foundation. Learn more about the event and Jason Reynolds' work at indypl.org/jason.