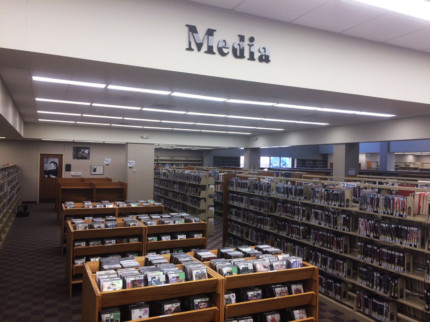 A larger children's area, increased patron seating, and creation of a single entrance point are among the features of the newly-renovated Beech Grove Branch of The Indianapolis Public Library, 1102 Main Street.
The $151,000 project involved adding space to the children's area by reallocating under-utilized staff rooms and moving the Library's interior entrance closer to the entrance to the building most used by patrons. It results in a single welcoming and monitoring point for the information and circulation desk.
Not counting public computer areas, seating within the branch is expanding from 48 to 66 seats. Power outlets for personal devices have been added to study tables. New digital signage will inform patrons about upcoming Library activities. Shelving has been reorganized and shelving heights have been lowered to increase the openness of the 33,000-square-foot facility.
"The renovation was a long process, but the quality of the work done here at the branch is outstanding," said Todd Gilbert, Beech Grove Branch Manager. "The space feels open, bright, and welcoming. As we move on into 2019 and beyond, the renovation will help us offer expanded services and programming to better meet the needs of our growing community."
Project architects were Halstead Architects of Indianapolis, and the contractor was Boyle Construction Management of Indianapolis.
To learn more about the Beech Grove Branch and its programs and services, call 317-275-4560 or visit indypl.org/locations/beech-grove.