Beech Grove Schools Receive IndyPL Library Cards!
02/19/2018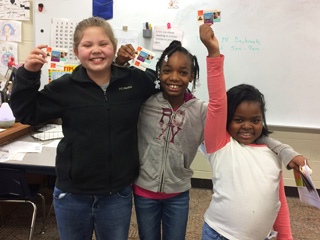 More than 2,800 students in grades K — 12 at five Beech Grove public schools can now access The Indianapolis Public Library's growing collection of digital and physical materials and online research databases with their new IndyPL Library cards.
The eResource card provides students access to eBooks; eAudiobooks; streaming video, music and magazines; and more than 80 online databases to help with their academic study. The special card allows limited borrowing of books and other physical items, but young children can upgrade to a full Library card by visiting any IndyPL location with a parent or guardian.
"It's just the start for them of a lifelong love of reading and learning," said Craig Buckler, Principal of Central Elementary where 478 second and third grade students received Library cards during a special presentation on Monday, February 19. "There's power in visiting the Library with so many services the Library offers. If we can build that habit with them at this young age, it's something that will carry them long into their adulthood."
The Beech Grove students join nearly 37,000 other school students throughout Marion County who have received Library cards during recent campaigns to meet IndyPL's strategic goal of providing a card to every student in the county.
The Library plans similar card distributions in Franklin Township public schools in the near future.
The Library's distribution of Library cards to schools is made possible by The Indianapolis Foundation Library Fund through a grant to The Indianapolis Public Library Foundation.