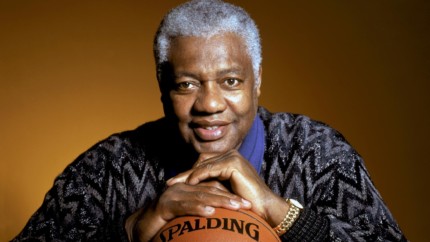 Individuals of all ages are invited to celebrate the second anniversary of The Indianapolis Public Library's Center for Black Literature & Culture (CBLC) at Central Library and explore its many resources that highlight the heritage of those with African roots on Saturday, October 19 from 1 – 4 p.m. at Central Library, 40 E. St. Clair Street.
The free event will feature a presentation by honored guest Oscar Robertson, the former Crispus Attucks High School and NBA star who will discuss the importance of the Attucks state basketball championships in 1955 and 1956 to the school and the black community. Robertson will be joined by his Crispus Attucks teammates Henry Robertson, John Gipson and Bill Hampton.
In addition to Robertson's special appearance, those attending can tour the CBLC throughout the day and view its large collection of books, materials and displays that showcase those who have transformed the world through their courage, talents and activism. The Center features such Hoosier black heroes as writer Mari Evans, musicians Wes Montgomery and Kenneth "Baby Face" Edmonds, actress Vivica A. Fox, journalist Amos Brown, as well as Oscar Robertson.
Made possible by a $1.3 million grant by Lilly Endowment Inc. to The Indianapolis Public Library Foundation, the nearly 4,000-square-foot Center, located in Central Library's R.B. Annis West Reading Room, opened in October of 2017 as a focal point for exploring the black experience in Indianapolis and beyond. More than 117,000 individuals have visited the CBLC to experience its interactive displays, engaging programming and specialized collections.
"The Center provides a unique learning experience to benefit all in Indianapolis," said Nichelle M. Hayes, Special Collections Librarian who manages the Center. "We've seen how it has inspired both young people and adults to learn how black icons, especially those with Indiana roots, have influenced not only American but world culture."
For more information about the CBLC and its second anniversary event, call 317-275-4100 or visit the CBLC webpage.