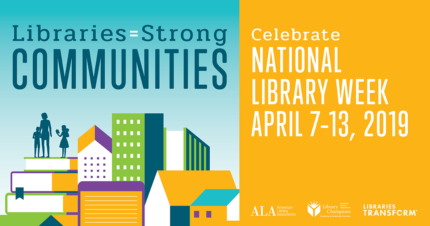 The Indianapolis Public Library invites those of all ages to participate in various activities during National Library Week, April 7 – 13, 2019. This year's celebration, "Libraries = Strong Communities," recognizes the contributions of the nation's libraries and librarians and promotes the use and support of all types of libraries.
First observed in 1958, National Library Week is sponsored by the American Library Association to promote the role of libraries in transforming lives and communities. This year's Honorary Chair is Melinda Gates who, for the past 20 years, has invested more than $1 billion through the Bill and Melinda Gates' Global Libraries initiative to enhance the power of libraries to improve lives.
Throughout the week, IndyPL will offer free computer classes, job skills training, book discussions, craft programs, and a variety of fun and educational programs for children. Highlighted events include Ask-a-Lawyer at various Library locations on Tuesday, April 9 from 12 – 4 p.m., when individuals can receive free legal advice during one-on-one consultations with qualified attorneys. Central Library will host two powerful theatrical performances for young people and families by the Young Actors Theatre. And the Indy Library Store Book Sale will offer new and used books at discount prices during its sale that continues through Saturday, April 13 at the Library Services Center, 2450 N. Meridian Street.
Nationwide observances during the week include National Library Workers Day on Tuesday, April 9; National Bookmobile Day on Wednesday, April 10; and Take Action for Libraries Day on Thursday, April 11. On this day, advocates are encouraged to share how libraries make their communities stronger by creating short video and social media content and posting it on Twitter, Instagram and Facebook at #MyLibraryMyStory.
To learn more about free IndyPL events during National Library Week, contact your local branch or visit www.indypl.org.