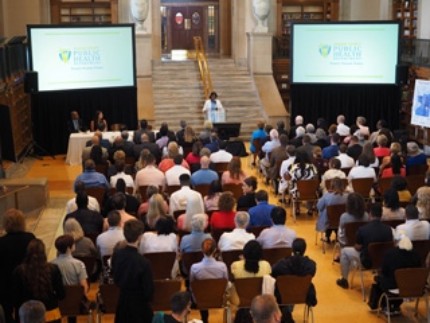 With a backdrop of supportive leaders representing civic, religious, health care and public safety organizations, Marion County Public Health Department director Virginia A. Caine, M.D., proposed the county's first-ever syringe exchange program to combat the alarming increase in hepatitis C cases and to prevent a potential surge in HIV cases. The announcement was made on May 17 at Central Library.
Caine began the day with a briefing session to public health organizations in Marion County, including those that work on the many issues impacting individuals suffering from drug addiction. She provided detailed statistics, which show a 1,000 percent increase in the number of hepatitis C cases from 2013 to 2017, a majority of which have been attributed to injection drug use.

Given the level of increase – and seeking to prevent an HIV outbreak similar to what Scott County, Indiana experienced in 2015 – Caine declared a public health epidemic for Marion County, the first step required by Indiana law for a county to implement a syringe exchange program. Once an epidemic is declared, the second requirement is approval by the City-County Council.
"After careful study and analysis, I am declaring an epidemic that is putting Indianapolis in a public health emergency for hepatitis C in Marion County," Caine said. "The proposed syringe exchange program is medically necessary and will save lives by reducing the transmission of hepatitis C and HIV. Both are growing national problems brought on by the widespread increase in opioid addiction."
City-County Council President Vop Osili joined the announcement and expressed his support for the syringe exchange program. He indicated the program would be introduced for consideration at the council's next meeting on May 21.
"I strongly support moving forward with a syringe exchange program as it will improve public health in Indianapolis and Marion County while also saving taxpayers money by greatly reducing the burdensome health care costs related to injection drug use and infectious disease," said Osili.
Osili stressed that the program will require no additional public investment, with conservative estimates showing a potential annual savings for taxpayers and health care providers of $193 million in HIV treatment costs alone.
Caine highlighted several data points signifying the troubling surge in both hepatitis C and HIV in Marion County:
The rate of reported acute hepatitis C infection in Marion County rose from 0.6 to 7.6 per 100,000 population between 2013 and 2017.
That rate is likely understated. The Centers for Disease Control and Prevention (CDC) estimates that true number of acute hepatitis C cases are nearly 14 times what is reported, which translates to approximately 1,000 new cases in Marion County in 2017 alone.
In at least 86 percent of the new cases in 2017, patients reported injecting drugs within the last six months, and at least 58 percent reported sharing drugs and paraphernalia.
The CDC estimates a prevalence between 9,200 and 11,400 cases of chronic hepatitis C for a population of Marion County's size; however, more than 21,000 county residents with chronic hepatitis C have been reported since 1990. HIV cases have also spiked. Newly reported HIV cases were decreasing steadily from 2011 to 2015 but in 2017, the rate per 100,000 was 25.3, up from 20.0 in 2015.
Caine said the proposed program would ensure injection drug users have access to clean needles to prevent infections, keep used needles off the streets and connect individuals with needed health services.
Initially, the program would operate as a mobile unit. Sites would be based on overdose deaths by location, residences of decedents, Indianapolis EMS use of Narcan, and recommendations by the Indianapolis Metropolitan Police Department.
Support services vital to the program would include:
HIV and hepatitis C rapid screening
Safer drug use practices
Referral for substance use disorder and mental health treatment
Wound care education
Immunizations
Referral to primary care
Access to health insurance coverage
Studies show that participants in a syringe exchange program are five times more likely to enter drug treatment than injection drug users who do not participate in the program.
Caine also highlighted national statistics and the successes of other counties in Indiana that have implemented a similar program. She cited CDC findings that syringe exchange programs:
Curtail drug use
Reduce needlestick injuries among first responders
Decrease overdose deaths
After introduction of the program proposal to the City-County Council, the Marion County Public Health Department will host three public meetings at the below dates and locations:
City-County Building 200 E. Washington St., Indianapolis, IN Room 260 Tuesday, May 22, 2018 5:30 p.m.
Marion County Public Health Department 3838 N. Rural St., Indianapolis, IN 46205 1st Floor Conference Room Thursday, May 31, 2018 6-8 p.m.
Marion County Public Health Department 3838 N. Rural St., Indianapolis, IN 46205 1st Floor Conference Room Wednesday, June 13, 2018 6-8 p.m.
For more information, visit marionhealth.org/SafeSyringe.