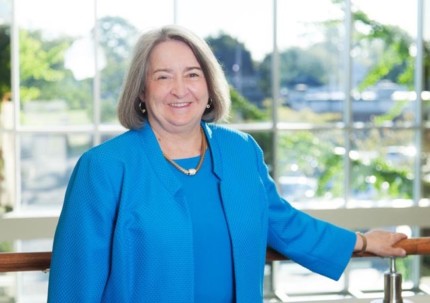 Individuals of all ages are invited to meet Indianapolis Public Library CEO Jackie Nytes during her 2019 "Love Your Library Tour" continuing through early March at all IndyPL locations.
Attendees can learn about trends and activities throughout the Library system, including new capital projects, and share thoughts about how the Library can better serve patrons' needs in an informal and conversational setting.
This year's sessions also will provide an introduction to the Library's new website, recently launched at indypl.org. The redesigned, mobile-friendly site features an easy-to-use catalog and improved access to the Library's many online features.
The CEO's "Love Your Library Tour" will visit libraries on the following dates and times.
Tuesday, January 29 at 4 p.m. – Warren Branch, 9701 E. 21st Street
Wednesday, January 30 at 2 p.m. – Wayne Branch, 198 S. Girls School Road
Thursday, January 31 at 6 p.m. – East 38th Street Branch, 5420 E. 38th Street
Friday, February 1 at 2 p.m. – Central Library, 40 E. St. Clair Street
Saturday, February 2 at 2 p.m. – Spades Park Branch, 1801 Nowland Avenue
Tuesday, February 5 at 6:30 p.m. – College Avenue Branch, 4180 N. College Avenue
Wednesday, February 6 at 5:30 p.m. – Michigan Road Branch, 6201 N. Michigan Road
Thursday, February 7 at 3 p.m. – East Washington Branch, 2822 E. Washington Street
Saturday, February 9 at 3 p.m. – InfoZone, 3000 N. Meridian Street
Monday, February 11 at 6 p.m. – Beech Grove Branch, 1102 Main Street
Wednesday, February 13 at 6 p.m. – Southport Branch, 2630 E. Stop 11 Road
Thursday, February 14 at 4 p.m. – Decatur Branch, 5301 Kentucky Avenue
Friday, February 15 at 12 noon – Lawrence Branch, 7898 N. Hague Road
Saturday, February 16 at 3 p.m. – Pike Branch, 6525 Zionsville Road
Tuesday, February 19 at 6:30 p.m. – Franklin Road Branch, 5550 S. Franklin Road
Wednesday, February 20 at 6 p.m. – Garfield Park Branch, 2502 Shelby Street
Thursday, February 21 at 4 p.m. – Haughville Branch, 2121 W. Michigan Street
Saturday, February 23 at 2 p.m. – Brightwood Branch, 2435 N. Sherman Drive
Tuesday, February 26 at 4 p.m. – Eagle Branch, 3325 Lowry Road
Wednesday, February 27 at 6 p.m. – Glendale Branch, 6101 N. Keystone Avenue
Thursday, February 28 at 4 p.m. – Nora Branch, 8625 Guilford Avenue
Monday, March 4 at 6:30 p.m. – Irvington Branch, 5625 E. Washington Street
Tuesday, March 5 at 6 p.m. – West Indianapolis Branch, 1216 S. Kappes Street