Decatur Branch Staff Member Receives IndyPL's Norris Service Award
10/21/2019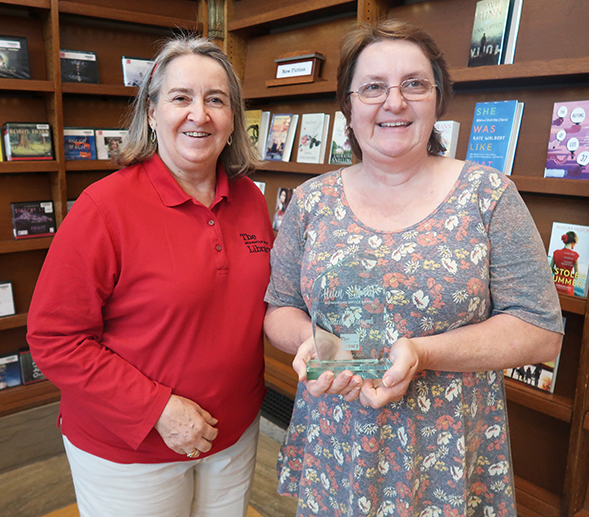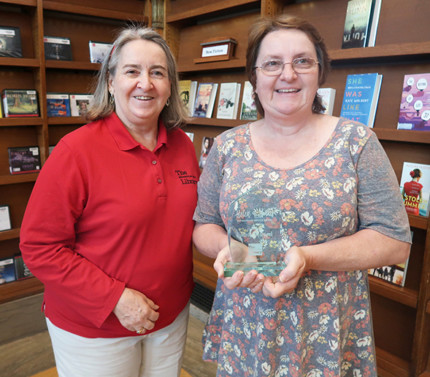 A 34-year employee of The Indianapolis Public Library has received the Library's prestigious Helen L. Norris Distinguished Service Award for her long-standing commitment to library service and leadership in the community.
Decatur Township resident Kathleen Underwood serves as Circulation Supervisor at the Decatur Branch, 5301 Kentucky Avenue. She was cited for her exceptional expertise in her field of service and for providing improved methods and training for a more skilled staff. Underwood has held numerous civic positions and has worked to integrate the Library into the community.
The award was presented at the Library's annual Staff In-Service Day on October 14.
"I'm honored to receive this award from my peers," said Underwood. "It's been my good fortune to serve not only the Library but the entire Decatur Township community over the years."
The Helen L. Norris Distinguished Service Award is named for the Indianapolis Public Library employee who worked to improve staff working conditions and pay from the 1940's through the 1960's.
Also during the Library's Staff In-Service Day, The Indianapolis Public Library Foundation's Beth Tindel Award was presented to Westside resident Jon Barnes, who has served as the Library's Public Relations Specialist for 24 years. The award is presented in memory of the 12-year Indy Library employee who was valued for her enthusiastic support of Foundation activities and passion for Library service.