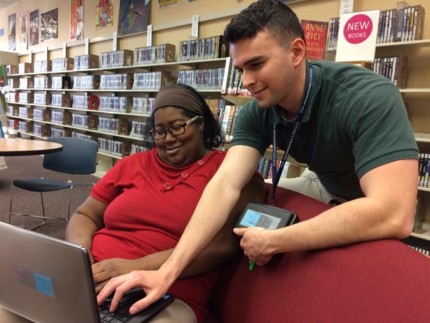 The Indianapolis Public Library and Grow with Google are teaming up to help Indianapolis residents access free digital tools and resources to grow their skills, career or business. Library patrons can borrow wifi hotspots and laptops for a period of 21 days. The lending program is available at the Brightwood Branch, 2435 N. Sherman Drive, and the IndyPL Bookmobile at the Flanner House Community Center, 2424 Dr. M.L. King, Jr. Street, on a first come, first serve basis. The partnership is part of the Grow with Google initiative to help create economic opportunities for all Americans.
"I'm excited to see the 'Grow with Google' and Indy Library partnership which will expand Internet access for library patrons across Indianapolis," said U.S. Representative Andre Carson. "Through this effort, more people will be able to practice important digital skills, search for and apply for jobs, and continue their education."
"In today's tech economy, digital skills are critical to finding a job and growing a career," said Erica Swanson, Head of Community Engagement for Grow with Google. "We are proud to work alongside the IndyPL to give their patrons the opportunity to connect to the web and to learn skills that can help them succeed."
"With Grow with Google and our IndyPL Connect program, we can serve our patrons far beyond our brick and mortar branch," said John Helling, Director of Public Services at The Indianapolis Public Library. "Our partnership with Grow with Google is allowing Indy residents to bring the library -- and all it has to offer -- home with them."
Grow with Google has been an increasing presence in Indianapolis. Last year the economic opportunity initiative kicked off its national tour with a two-day training event for small businesses and jobseekers at the Indiana State Museum. Grow with Google also provided a $300,000 grant to Goodwill of Central and Southern Indiana as part of its Digital Career Accelerator Program to train their beneficiaries in digital skills.
Starting next year, Grow with Google will visit libraries in every state -- including Indiana -- partnering with them to deliver digital skills trainings directly to jobseekers and small businesses in their community, and to train library staff and their educational partners on a range of Grow with Google tools and curriculum they can use on a daily basis.
According to the Pew Research Center, Americans look to libraries to teach digital literacy. The report detailed that respondents connect library support of digital literacy skills and employment, and view libraries as contributing to the economic health of the community. 75% of report respondents say libraries have been effective at helping people learn how to use new technologies.