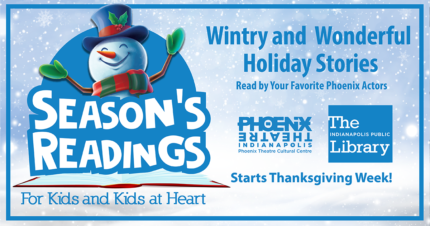 It's the holly jolliest time of the year as the Phoenix Theatre Cultural Centre and the Indianapolis Public Library present Season's Readings, a ten-book children's storytelling series that highlights a diversity of families, cultures and celebrations.
The series premieres Thanksgiving Week featuring one of Indy's favorite actors, Jolene Mentink Moffatt, reading Over the River & Through the Wood by Linda Ashman about how all shapes and sizes of families come together to celebrate the holidays. Upcoming books showcase Hanukkah, Kwanzaa and LGBTQ-inclusive themes, in addition to kid-favorite holiday characters and wonderfully wintry, snowy days.
"As we conclude what most of us would describe as a tumultuous and trying year, bringing artists and audiences together to celebrate illustrated children's books seems like a lovely way to bring us a little closer together as we head into 2021," said Bill Simmons, artistic director of the Phoenix Theatre Cultural Centre who will also perform Twas the Night Before Christmas. "Whether you're a kid or a kid at heart, you'll not want to miss these fun, one-of-a-kind performances by some of Indy's most amazing actors."
Scheduled to appear in the series is a wide range of noted and award-winning actors who have graced Indy's stages. Milicent Wright tells the story written by Newbery Honor-winning author Patricia C. McKissack and illustrated by Caldecott Medal-winning illustrator Jerry Pinkney about a little girl, Nella, sharing the best gift in The All-I'll-Ever-Want Christmas Doll. Ben Asaykwee brings to life the LGBTQ-inclusive story of Peter celebrating his colorful feathers in The Enchanted Page Book Award-winner A Peacock Among Pigeons.
Comedic actor John Vessels, Broadway World's 2019 Regional "Best Actor in a Play," presents his twist on Dr. Seuss's How the Grinch Stole Christmas on December 1. He'll be followed on the first day of Hanukkah by Adrienne Reiswerg who will bring us Hanukkah Haiku, a book praised by the Jewish Book Council for its "exquisitely illustrated...Chagall-like" paintings that "capture the joy and excitement of Hanukkah." Similarly, on the first day of Kwanzaa, we present Josiah McCruiston's personally selected story Santa's Kwanzaa.
Rounding out the Season's Readings selections is the childhood holiday double feature of Frosty the Snowman read by Arianne Villareal and Rudolph the Red-Nosed Reindeer performed by Carlos Medina Maldonando.
"One of the best gifts you can give a child is the love of books," said Jackie Nytes, chief executive officer of the Indianapolis Public Library. "We hope this Season's Readings storytelling series helps ignite that spark in children throughout Indianapolis this holiday season."
Each performance will be shared on Phoenix Theatre and Indianapolis Public Library social media platforms including Facebook. The series runs through early 2021 with the final story Snow read by Jan Lucas to be released on January 8. For more information and a full schedule, go to https://www.seasonsreadings.info/.
About the Phoenix Theatre
The Phoenix Theatre (phoenixtheatre.org) is a professional, Equity theatre in Indianapolis producing contemporary, issue-oriented plays. Performances are year-round from its two stages at the Phoenix Theatre Cultural Centre: the mainstage Livia and Steve Russell Theatre and the cabaret-style Frank and Katrina Basile Theatre. The Phoenix serves as a catalyst in the Indianapolis region to help nurture new talent, showcase diverse voices, and engage audiences with unique, contemporary productions. Its mission includes growing the community's reputation as an arts destination and serving as a hub to showcase local artists, host events, and help its neighborhood thrive.

About the Indianapolis Public Library
The Indianapolis Public Library (indypl.org) is the center of knowledge, community life, and innovation for residents of Indianapolis, Lawrence, Beech Grove, and Marion County, Indiana. Operating in 23 locations along with a Bookmobile and circulating over 14 million items annually, the Library provides materials, programs and services in support of lifelong learning for residents of all ages and backgrounds.