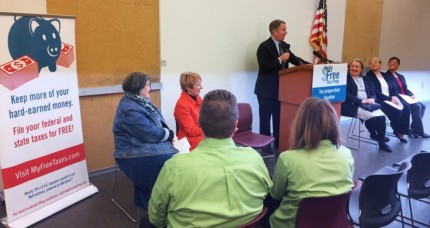 Beginning Friday, February 7, free tax preparation to individuals and families with a combined income of $66,000 or less is available throughout the tax season at the East 38th Street Branch of The Indianapolis Public Library, 5420 E. 38th Street.
Assistance is available by appointment at the branch on Fridays and Saturdays from 11 a.m. – 4 p.m. The program, Indy Free Tax Prep, is a network of Volunteer Income Tax Assistance (VITA) sites throughout Central Indiana and is administered by the United Way of Central Indiana in partnership with the Internal Revenue Service. Employees at the Financial Health Federal Credit Union serve as tax preparation volunteers. Other partners include the City of Indianapolis, IndyGo, Eastern Star Church, and the Library.
Mayor Joe Hogsett joined Indianapolis Public Library CEO Jackie Nytes and representatives from the partner organizations on January 29 at the East 38th Street Branch to kick off the opening of tax preparation sites in Marion, Boone, Hendricks and Morgan counties.
Each year, thousands of Central Indiana residents pay unnecessarily to file their taxes, without knowing they may be eligible for free filing. The Indy Free Tax Prep program can ease the financial burden of the tax preparation process and ensure that those within the income eligibility limit receive their full tax refund.
The tax filing deadline is Wednesday, April 15, 2020.
Taxpayers may visit IndyFreeTaxPrep.comfor details on locations, hours and information on how to schedule an appointment. They may also call the East 38th Street Branch at 317-275-4352 to schedule an appointment.