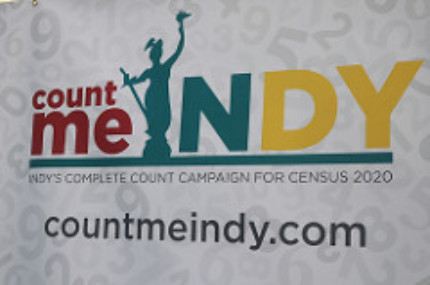 Congressman André Carson, Mayor Joe Hogsett, Indianapolis Public Library CEO Jackie Nytes, and the U.S. Census Bureau's Regional Director Marilyn Sanders kicked off the City's 2020 census efforts at the Central Library on February 18. Mayor Hogsett also announced the appointment of the census co-chairs: Anthony Tony Mason of the Indianapolis Urban League and Miriam Acevedo Davis of La Plaza. These co-chairs will serve as figureheads within the community, using their wide networks of trust and influence to educate people about the census and encourage high response rates.
"The 2020 census will be conducted primarily online for the first time in our nation's history and the Indianapolis Public Library is excited to be a part of these innovations and a point of access for all Indianapolis residents." said Jackie Nytes, CEO of Indianapolis Public Library.
The census campaign is now underway, but the official count day is April 1, 2020.
An accurate census count will ensure that Indianapolis receives its fair share of education, healthcare, housing, and infrastructure funding and its proper electoral representation in Congress. The City's Department of Metropolitan Development's Long Range Planning team will collaborate with community partners and advocacy groups to form Complete Count Committees on a wide range of issues from immigrant rights and citizenship, to voter protections, gerrymandering, and critical federal funding grants directed toward the City and our most vulnerable Indianapolis residents.
"The census ultimately determines the blueprint for the next decade, determining the way our community is represented at all levels of government, allowing local organizations to develop, implement, and assess their programs, and guiding the distribution of more than $700 billion in federal and state funding." said Mayor Hogsett.
"The Hogsett Administration is working hard to count every Indianapolis resident. I look forward to seeing their hard work pay off to ensure that historically undercounted and marginalized communities in our city do not shy away from the census." said Congressman Carson.
For more information about these efforts go to CountMeINdy.com.