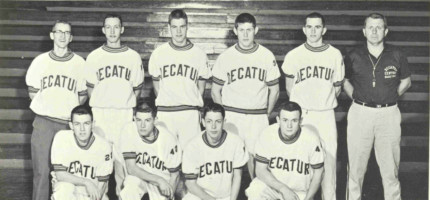 Decatur Central High School yearbooks from 1947 – 2008 are among the latest additions to The Indianapolis Public Library's collection of local historical archives available for public viewing at digitalindy.org.
The Decatur Central High School yearbook collection begins with a comprehensive introduction focusing on the history of Decatur Township and the evolution of the high school. The school currently located at 5251 Kentucky Avenue was dedicated on May 7, 1961, and was renovated in 2010.
Visitors to the Library's Digital Indy site will find downloadable, full-text editions of the "Hawkeye" that feature such notable alumni as Morris Mills, Indiana State Senator (class of 1947); Terry Linger, Director of Sports at ESPN (class of 1972); Jason Holliday, City County Councillor (class of 1984); and Aaron Gibson, former NFL offensive tackle (class of 1995).
The Decatur High School yearbooks join other new additions to Digital Indy featuring historic documents and images from Crispus Attucks High School, Indy Jazz Fest, Starlight Musicals, Chatham Arch Neighborhood, Gennesaret Free Clinic, The International Center, and the Near Eastside Community Organization.
Digital Indy collections are made possible by the Allen Whitehill Clowes Charitable Foundation, Inc. and Friends of the Library through gifts to The Indianapolis Public Library Foundation.