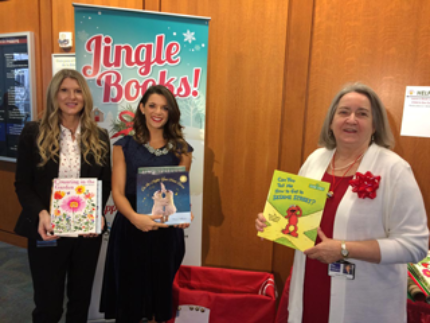 Indianapolis residents are encouraged to give the gift of reading during "Jingle Books 2018," a project of The Indianapolis Public Library, the Office of Indianapolis Mayor Joe Hogsett, and Sondhi Solutions, to provide free books to children of all ages during the holiday season.
During a launch event on November 26 at Central Library, Indianapolis First Lady Stephanie Hogsett, Sondhi Solutions representative Lindsay Szostak, and IndyPL CEO Jackie Nytes donated the first books of the campaign into the "Jingle Books" receiving box, helping to ensure that every child receives a book as a gift during the holiday.
"Jingle Books makes it easy for people to help young ones develop reading skills and create home libraries," stated Nytes. "Simply visit your local Indy Library to either take or donate books for children to read and value as great gift to receive."
"Jingle Books" displays are available at all IndyPL locations. Individuals can select children's books from display boxes to take home for free. They can also donate new or gently used books by dropping them into the boxes. Free gift wrapping stations will be provided at most sites.
During its first four years, "Jingle Books" has provided nearly 4,000 books for local children.
"Jingle Books" will continue through December 22, 2018 during regular Library hours.