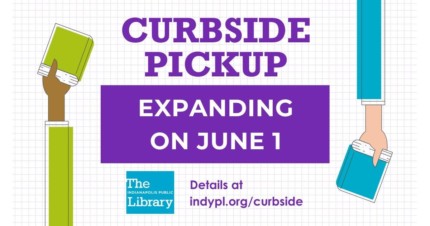 Beginning Monday, June 1, curbside delivery of books and other materials to patrons will be available at most Indianapolis Public Library sites. Since May 18, curbside delivery has been piloted at five select IndyPL locations while its buildings remain closed to the public due to the COVID-19 emergency.

The hours for curbside delivery will be adjusted slightly from those offered at the original curbside sites. It will be available Monday through Friday from 10 a.m. – 6 p.m. at all locations, and on Sunday from 12 p.m. – 5 p.m. at Central Library, 40 E. St. Clair Street; the Franklin Road Branch, 5550 E. Franklin Road; the Glendale Branch, 6101 N. Keystone Avenue, the Nora Branch, 8625 Guilford Avenue; the Pike Branch, 6525 Zionsville Road; the Southport Branch, 2630 E. Stop 11 Road; and the Warren Branch, 9701 E. 21st Street.
The Lawrence and Wayne branches remain closed for renovation, and the new Martindale-Brightwood branch is scheduled to open later this month. The InfoZone at the Children's Museum remains closed, and the Fountain Square branch, which was set to formally close on May 8, will not reopen.
Procedures for obtaining materials via curbside service remain the same. Individuals can request materials online or over the phone to staff at any location to be picked up at that site. They would then need to contact the branch to inform staff of their arrival time. Patrons who arrive on foot or by bicycle will be served as long as safe social distancing practices are observed.
Library materials should only be returned via outdoor drop boxes, which will be quarantined and cleaned in accordance with established health guidelines before being recirculated into the Library's collection. In addition, all new physical item checkouts will have a 21-day checkout time, and all fines and late fees will continue to be waived until further notice.
For more details on curbside service and frequently asked questions, visit indypl.org/curbside.
While the Library's physical locations remain closed, individuals can utilize such free online offerings as eBooks, streaming videos, resources for research and remote learning, video read-alongs, and the "Ask-a-Librarian" reference service. Residents can also get or renew a Library card online.