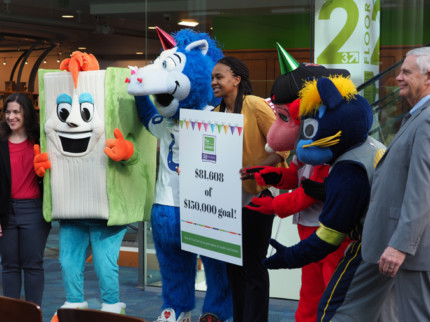 To celebrate its 50th anniversary of providing support for library services, The Indianapolis Public Library Foundation has launched a public fundraising effort to establish a new, permanent endowment benefiting future generations of Indianapolis children.
Demonstrating that Indianapolis is not only a sports town but a reading town, the Library Foundation was joined on February 26 at Central Library by representatives of Pacers Sports & Entertainment, including Pacers mascot Boomer, and the Indianapolis Indians, as well as former Indiana Fever legend Tamika Catchings and Indianapolis Colts mascot Blue, to encourage $150,000 in public donations for the "Next 50 Fund" in support of children's reading and learning initiatives at The Indianapolis Public Library. The campaign continues through Dec. 31, 2019. Indy's sports organizations traditionally are among the largest Foundation supporters.
Individuals throughout the community are asked to reflect on how their childhood Library experiences, or those of their children, have enhanced their lives and to support this effort to continue having such an impact on others.
The Library Foundation generates more than $2 million dollars a year in corporate and individual support for such Library activities as the Summer Reading Program, lectures by popular authors, and most recently, providing Library cards to increase children's access to information. Whereas tax dollars are used to support the Library's basic expenses such as salaries, collections and facilities, the majority of Library programs and services that patrons know about are possible only through the support of the Library Foundation.
"The 'Next 50' campaign gives everyone who loves the Library an opportunity to leave their own legacy for the future," said Roberta Jaggers, President of the Library Foundation. "With the unknown challenges of the next 50 years, having an established endowment will ensure that learning opportunities for children are well funded."
The Library Foundation's 50-year milestone will provide other unique opportunities during the year to celebrate the Foundation's impact on patrons. A highlight will be "Cheers for 50 Years," presented by the Danny R. Dean Fund, on Friday evening, May 3 at Central Library when adults can mingle, hear live music, experience the Library's most popular children's programs, and enjoy food and drink. The free event will include a special presentation on the Foundation's past and future and on the "Next 50" campaign.
To support the "Next 50" campaign, visit www.indyplfoundation.org or contact the Library Foundation at 317-275-4700.