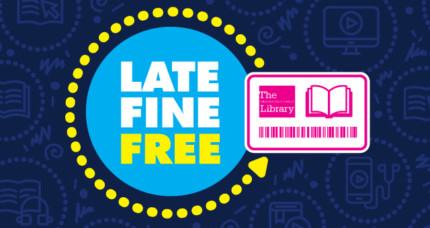 Indianapolis Public Libraries (IndyPL) implemented a fine free policy starting January 4, 2021, joining dozens of library systems across the U.S. that have eliminated "per day" late fines that accrue when materials are overdue. IndyPL also forgave the historic debt of over 87,000 patron accounts to erase barriers to Library use that disproportionately affect low-income households. This change supports citywide efforts to build equity in Indianapolis.
"Our goal is to provide free and equitable access to all," said Jackie Nytes, CEO of IndyPL. "By removing the barrier of fines, we are more equipped to provide resources and opportunities to all members of our community."
Library patrons are still required to return materials on time and are responsible for lost or damaged books and debt collection charges. Items are still due 21 days after checkout and will be considered "lost" if not returned or renewed.
The History of Late Fines:
Historically, libraries have used overdue fines to encourage patrons to return materials on time and to supplement the libraries operating budget. Some libraries view fines as a way to teach patrons, especially children, personal responsibility. Many urban library systems have found that fines disproportionally affect low-income families, deterring patrons who need the Library the most from utilizing resources. A report from Library Connection, Inc. found that suspending the borrowing privileges of patrons with overdue materials is the most impactful way of encouraging item returns, which can easily be accomplished without the use of punitive fines.
Local Impact:
Late fines have a disproportionate impact on patrons from zip codes that represent low-income communities. In Indianapolis, many of the zip codes with the highest Library debt are designated as target impact areas by Mayor Hogsett, including Martindale-Brightwood (46218), the near eastside (46201), the far eastside (46235), Mapleton-Fall Creek (46205), and the Meadows (46205).
"For some patrons, these fines are manageable inconveniences, but for other patrons, these fines add up to a financial barrier that prevents them from accessing our resources," said John Helling, director of public services with IndyPL. "We have heard from patrons who feel that they can't come back to The Library because of fines and fees on their cards. Fines are not effective in getting people to bring books back, and are not sustainable with the increased use of electronic resources."
A New Beginning:
IndyPL's Board of Trustees approved the elimination of overdue fines at their meeting on July 27, 2020. In addition to eliminating late fines, IndyPL forgave more than $2,000,000 worth of outstanding fines and debt collection fees. Because so many balances go unpaid, the financial impact will be managed.
"If you have been hesitant to use the library for fear of getting late fines or because you owed late fines, those concerns should no longer stand in your way," said Nytes. "We have so much for our community to enjoy."
Click here for more information.
###
As of December 21, all IndyPL locations will be available for curbside pickup and computer use only. Out of an abundance of caution due to Covid-19, Library branches may close without notice for cleaning. Please check the status of your branch before visiting.