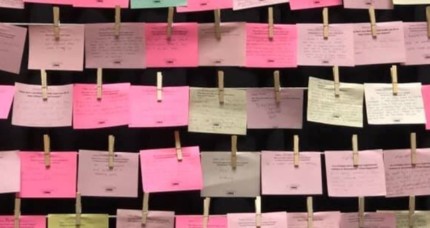 During September, adults are invited to participate in activities presented by The Indianapolis Public Library in support of "El Tendedero/The Clothesline," a nearly year-long project sponsored by Women4Change to educate individuals about the prevalence of sexual assault among women in Indiana.

According to the Indiana State Department of Health, more than 1.5 million Hoosier women have reported being raped or sexually assaulted. Women4Change says that each year, many who are responsible for these crimes are not prosecuted due to weak state laws.
Indy Library programs include special installations at several locations that involve frames with several clothesline on which visitors can write responses about their experiences with sexual abuse or violence on an index card and pin them to the clothesline. These will create a powerful visual representation of how many women are affected by sexual assault. Installations can be found beginning the week of September 7 at the Beech Grove, Eagle, East 38th Street and Glendale branches, as well as Central Library.
In addition, online book discussions will feature fiction and non-fiction titles that raise awareness of violence against women. The first event on Friday, September 11 at 7 p.m. will be a discussion of SOLD by Patricia McCormick. This program will be presented in Spanish and led by Dominic Zepeda with Mujeres Conectadas en Indy. SOLD also will be discussed on Thursday, September 17 at 7 p.m. during an English-language presentation led by Minette Kamara of the Indiana Coalition to End Sexual Assault and Human Trafficking, Inc. The final discussion program on Thursday, September 24 at 7 p.m. will feature the book, Not That Bad: Dispatches from Rape Culture by Roxane Gay. This program will be led by Morgan Rumple of the Indiana Coalition to End Sexual Assault and Human Trafficking, Inc.
Registration is required for the book discussions by visiting the "Online Programs" section at the Library's website.
These free programs are made possible by The Indianapolis Foundation Library Fund through a grant to The Indianapolis Public Library Foundation.
Learn more about the "El Tendedero/The Clothesline" initiative at Women4Change.