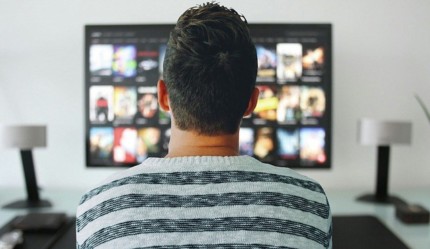 Free film streaming and access to complete archives of The Indianapolis Star and National Geographic magazine are among several new online services at The Indianapolis Public Library that enhance the Library's palette of information products beyond books.
Library cardholders can sign up for Kanopy, an on-demand streaming service showcasing more than 30,000 films that include award-winning documentaries, rare and hard-to-find titles, film festival favorites, indie and classic films and world cinema with collections from The Criterion Collection, Kino Lorber, Music Box Films, Samuel Goldwyn, The Great Courses, PBS, and thousands of independent filmmakers. The service also includes Kanopy Kids, featuring thoughtful, educational and enriching entertainment for children.
Users can sign up to stream films instantly by visiting indypl.kanopy.com. Films can be streamed from any computer, smart television, mobile device or platform by downloading the Kanopy app for iOS, Android, AppleTV, Chromecast or Roku.
For individuals wishing to learn a new language or improve language skills, IndyPL now offers Mango, which provides interactive lessons based on practical conversation skills and real life situations. Lessons include grammar and cultural notes, voice comparisons and pronunciation helpers for 70+ languages and 17 ESL courses. In addition to accessing this free service at www.indypl.org/download-or-stream/, users can download the mobile app for Apple and Android devices.
Researchers can now access complete editions of The Indianapolis Star from 1903 to the present through IndyPL's iLibrary collection of online databases. The databases also include archives of National Geographic magazines dating to 1888, as well as National Geographic Kids.
For those who enjoy streaming music for free, the Library is transitioning from Freegal to Hoopla, also available online at www.indypl.org/download-or-stream/. Patrons who currently use Freegal have until December 31 to save their downloaded music directly to their computers, which will then be theirs to keep. Those who have questions about downloading their Freegal music can ask a trained Library staff member at any IndyPL location or by clicking on the eMusic link on the Library's home page, which will take them to instructions for Freegal Music.
The addition of these and other free online services is in keeping with the Library's plan to continue to provide content that today's Library users find relevant and useful.