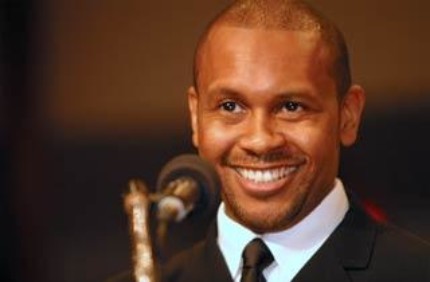 The entire community is invited to view a powerful photographic exhibit, "Sons: Seeing the Modern African American Male," from September 25 - October 31 at Central Library, 40 E. St. Clair Street. It is intended to foster a better understanding of this often marginalized segment of the American population.
Created by photographer Jerry Taliaferro, the exhibit features images of 30 local African American males and challenges viewers to examine their perceptions and prejudgments about Black males. Those selected for the exhibit following a community nomination process come from all walks of life: entrepreneurs, veterans, musicians, educators, architect, attorney, pastor, and more. The exhibit reveals how Black American males see themselves while encouraging a thought-provoking examination of how they are perceived.
To further inspire conversation, each photo is accompanied by a short video that allows viewers to hear the men discuss common issues confronting them.
A free public reception with author Kevin Powell is scheduled on Friday, October 5 from 6 - 9 p.m. at Central Library. Powell, one of the most acclaimed political and cultural voices in America today, is the author of 13 books, including his popular autobiography, The Education of Kevin Powell: A Boy's Journey Into Manhood.
Powell's appearance is part of his "Education of Us Tour," whose mission is to empower the powerless and engage communities about issues in our times. Powell will present a free lecture on Saturday, October 6 at 12 noon at Central Library where he will discuss themes related to the "Sons" exhibit and sign books.
"Sons: Seeing the Modern African American Male" is hosted by the Library's African American History Committee in support of the Center for Black Literature & Culture at Central Library and made possible by The Indianapolis Foundation Library Fund, a CICF affiliate, and Friends of the Library through gifts to The Indianapolis Public Library Foundation.