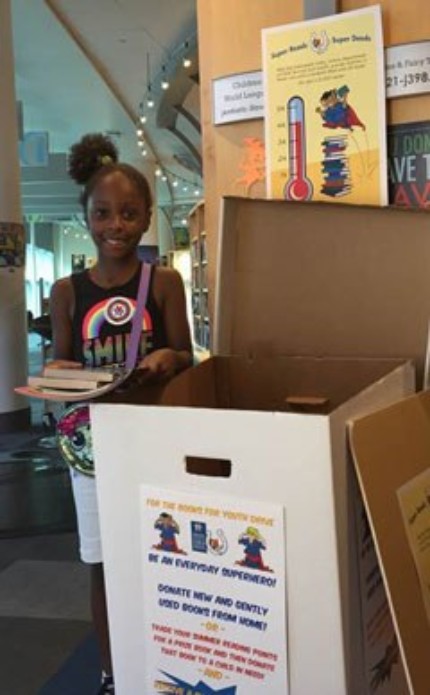 Nearly 49-thousand children read 925,037 books during The Indianapolis Public Library's 2018 Summer Reading Program, "Everyday Superheroes." Embracing the theme of the program, children became superheroes of their own by donating 5,906 books to local foster children in the "Books for Youth" partnership with the Indianapolis Colts and Indiana Department of Child Services, far exceeding the project's goal of 5,000 donated books.
Preliminary totals show a 1 percent increase in summer reading participation from 2017. Several IndyPL branches experienced large increases, including the West Indianapolis Branch (42.8%), Spades Park Branch (41%), East Washington Branch (27%), Central Library (21.9%), Beech Grove Branch (11.9%), and the Decatur Branch (7.7%). Other increases were noted at the College Avenue, Franklin Road, Garfield Park, Glendale, Southport, Wayne and Warren branches, as well as at the InfoZone in The Children's Museum and the Library's bookmobile service.
Youth workshops and films related to the Summer Reading Program theme attracted 32,058 attendees. Registered summer readers were eligible for a drawing to win two college savings accounts worth $529 from CollegeChoice CD. Winners will be announced in late August. In addition, young readers from each IndyPL location will be chosen to receive tickets to an Indianapolis Colts home game, as well as a grand prize winner to receive a VIP 4-pack to a Colts home game.
The 99th annual Summer Reading Program was presented by Friends of the Library through gifts to The Indianapolis Public Library Foundation. This year's presenting sponsor is OneAmerica®.
Other sponsors include 92.3 WTTS; BKD; Carrier Corporation; JPMorgan Chase & Co.; Citizens Energy Group; CollegeChoice CD 529 Savings Plan; Hartley and Margaret Dellinger; Indiana Pacers; Indianapolis Colts; The Indianapolis Foundation Library Fund; The Kroger Co.; Lilly Endowment Inc.; Louise Lage Kirtland and Hugh C. Kirtland Endowment Fund, a fund of The Indianapolis Foundation; Office of Lawrence Township Trustee Steve Talley; Providence Outdoor; Mary Frances Rubly and Jerry Hummer; Samerian Foundation; G. Marlyne Sexton; Deborah J. Simon; The Swisher Foundation, Inc., in memory of Glenn M. Swisher; and Toysmith.
For more information on IndyPL programs for youth and families, call 317-275-4099.