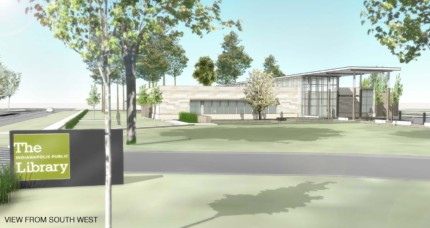 The entire community is invited for the grand opening of the newest branch of The Indianapolis Public Library, the Michigan Road Branch at 6201 Michigan Road, on Saturday, December 15 from 11 a.m. – 3 p.m. Festivities will include a special ribbon-cutting followed by guided tours, music, magic, face painting and other activities for all ages.
Identified as a branch to fill a large geographical service gap on the near-northwest side of Indianapolis, the 20-thousand-square-foot Michigan Road Branch will offer new and engaging spaces for children, teens and adults; increased access to computers and new technology; group study and tutoring rooms; and a large community room. Patrons will find new materials on display in the branch marketplace and easy access to a large collection of 60,000 books and other items.
To achieve LEEDv4Silver Certification in energy and resource conservation, the new branch features natural lighting and the use of vertical blinds powered independently based on the amount of light coming in. Sixteen tables in various public reading areas were designed and fabricated by Indy Urban Hardwood from trees harvested from the 4.5-acre site. Also, recycling containers are available for patrons and staff.
The $7.4 million Michigan Road Branch project is funded from bonds approved by the Indianapolis City-County Council to be assessed with no increase in the Library's debt service tax rate. The project's architect was krM Architecture+ of Indianapolis. The construction contractor was Stenz Construction Corporation of Indianapolis.
The Michigan Road Branch joins already-completed renovations at the Warren, Southport and East Washington branches; future renovations at the Lawrence and Wayne branches; new branch buildings planned in Perry Township and at Fort Benjamin Harrison; and replacement libraries planned for the Eagle, Brightwood and Glendale branches. All projects will be completed by 2022 with the purpose of maximizing accessibility to the Library and its services.