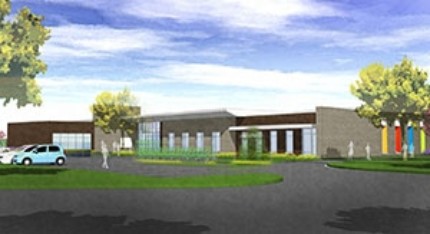 The entire community is invited for the grand opening of the new Eagle Branch of The Indianapolis Public Library at 3905 Moller Road on Saturday, June 1 from 10 a.m. – 4 p.m. Festivities will include a special ribbon-cutting ceremony at 10:30 a.m., followed by guided tours, live music, face painting and activities for all ages.
The 20,000-square-foot branch replaces the smaller Eagle Branch at 3325 Lowry Road which had served the public since 1970. Located on a 3.66-acre site just north of the intersection of Moller Road and W. 38th Street, the Eagle Branch will provide greater access to Library services and improve Library visibility on the Westside. It will offer engaging and functional spaces for services to children, teens and adults; group study rooms; a 100-seat community meeting room; ADA access; and increased access to computers and technology. Patrons will find new materials on display in the branch marketplace and easy access to a large collection of 50,000 books and other items.
To achieve LEEDv4Silver Certification in energy and resource conservation, the new branch features efficient technologies intended to save over $10,000 per year. These include a 66.2 kW solar array providing approximately 75 percent of the branch's electricity needs.
The $7.4 million Eagle Branch project is funded from bonds approved by the Indianapolis City-County Council to be assessed with no increase in the Library's debt service tax rate. The project's architect was Browning Day Mullins Dierdorf of Indianapolis. The construction contractor was Stenz Construction Corporation of Indianapolis.
The Eagle Branch joins the Michigan Road Branch, which opened in December 2018, as IndyPL's newest stand-alone facilities. Other replacement libraries are planned in new locations for the existing Brightwood and Glendale branches. New libraries also will be built in Perry Township and at Ft. Benjamin Harrison. As part of the Library's series of capital improvements, major renovations have occurred at the Warren, Southport and East Washington branches. Future renovations are planned at the Lawrence and Wayne branches. All projects will be completed by 2022 with the purpose of maximizing accessibility to the Library and its services.
Citizens can learn more about the new Eagle Branch at http://www.indypl.org/locations/eagle.