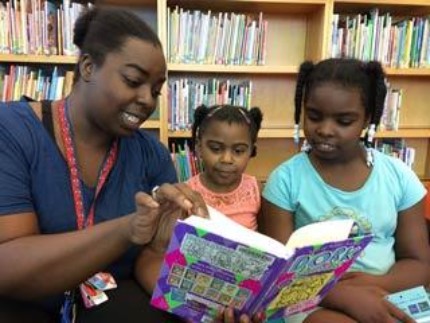 It's not too late for children and families to experience the joy of reading by registering for The Indianapolis Public Library's 2018 Summer Reading Program, "Everyday Superheroes," which continues through July 28 at all IndyPL locations. This year's theme builds on the recent popularity of superhero cinema and the stories of those who not only wear capes and tights, but also real-life heroes and she-roes in the community.
Participants may register at any Library location, including the Bookmobile, to earn points for their reading activity that can be exchanged for prizes generously donated by community sponsors. The more books participants read, the more points they will earn. A bonus booklist is available to challenge super readers who want to power up to earn additional points. Parents and older children can earn points by reading aloud to young children, including babies and preschoolers.
Prizes include licensed comic book hero items, paperback books, White Castle coupons, and passes to the Indianapolis Zoo, Eiteljorg Museum, ISO Symphony on the Prairie, Indy Parks pools, and Indiana Fever and Indianapolis Indians games. Summer readers can also win one of two college savings accounts worth $529 from CollegeChoice CD.
Participants are encouraged to use their earned Indianapolis Indians tickets to attend a celebration of summer reading achievement during Library Night at Victory Field on Wednesday, July 25 at 7 p.m.
Children also can become "Everyday Superheroes" by contributing to Books for Youth, a partnership with the Indianapolis Colts and Indiana Department of Child Services to collect 5,000 books to provide children in foster care with a backpack filled with 25 age-appropriate books. Reading points can be used to select and donate prize books or new and gently used books from home.
The 99th annual Summer Reading Program is presented by Friends of the Library through gifts to The Indianapolis Public Library Foundation. This year's presenting sponsor is OneAmerica®. Other sponsors include 92.3 WTTS; BKD; Carrier Corporation; JPMorgan Chase & Co.; Citizens Energy Group; CollegeChoice CD 529 Savings Plan; Hartley and Margaret Dellinger; Indiana Pacers; Indianapolis Colts; The Indianapolis Foundation Library Fund; The Kroger Co.; Lilly Endowment Inc.; Louise Lage Kirtland and Hugh C. Kirtland Endowment Fund, a fund of The Indianapolis Foundation; Office of Lawrence Township Trustee Steve Talley; Providence Outdoor; Mary Frances Rubly and Jerry Hummer; Samerian Foundation; G. Marlyne Sexton; Deborah J. Simon; The Swisher Foundation, Inc., in memory of Glenn M. Swisher; and Toysmith.
For more information on the 2018 Summer Reading Program, call 317-275-4099.