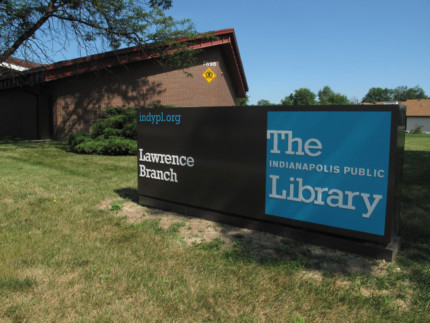 The public is invited to view and react to plans for the renovation of the Lawrence Branch of The Indianapolis Public Library during the second series of community engagement meetings on Wednesday, July 17 from 1 – 2 p.m. and again from 6:30 – 7:30 p.m. at the Lawrence Branch, 7898 Hague Road.
Led by architects from Rowland Design of Indianapolis, the meetings will allow comment on the proposed design of 13,500-square-foot branch that opened in 1983, as well as ideas for new services within the branch. Public input has been gathered from surveys, both online and at the Lawrence Branch, and at previously-held public meetings.
With a scheduled completion date of mid-2020, the renovation project will help maximize access to the Library's services and collections, create engaging and functional spaces for those of all ages, and increase access to new technology. The project also will provide group study and tutoring areas, improved lighting, more outlets for charging stations, and updates for the entrance, public restrooms and interior finishes.
The $1.5 million Lawrence Branch project and other capital projects identified in the Library's Strategic Plan are funded from individual bonds approved by the Indianapolis City-Council Council totaling over $58 million assessed with no increase in the Library's debt service tax rate.
Follow the progress of the Lawrence renovation at our website.