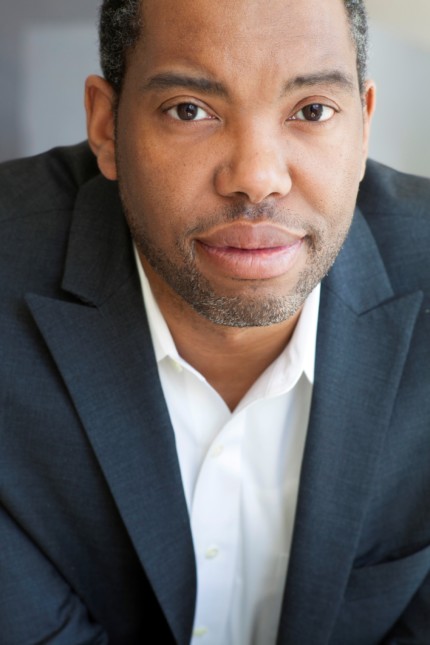 Award-winning author, journalist and comic book writer Ta-Nehisi Coates will present The Indianapolis Public Library Foundation's 42nd annual Marian McFadden Memorial Lecture on Wednesday, May 8 at 7 p.m. at Clowes Memorial Hall of Butler University, 4602 Sunset Avenue.
Coates is a distinguished writer in residence at New York University's Arthur L. Carter Journalism Institute. He is the author of the bestselling books The Beautiful Struggle; We Were Eight Years in Power; and Between The World And Me, which won the National Book Award in 2015. Coates is a recipient of a MacArthur Fellowship. He is also the current author of the Marvel comics Black Panther and Captain America.
Formatted as a moderated conversation with Ta-Nehisi Coates, attendance at this program is free, but tickets are required. Tickets are available at ButlerArtsCenter.org/Coates, on Ticketmaster, or in person at the Clowes Memorial Hall box office. Additional fees of $0.75 apply for online orders. There is a limit of four tickets per person for online orders.
Doors will open at 6 p.m., with preferred seating for Friends of the Library available until 6:45 p.m.
Books will be available for purchase at the event courtesy of the Butler University Bookstore.
The Marian McFadden Memorial Lecture, made possible by Friends of the Library through gifts to The Indianapolis Public Library Foundation, has featured many of the nation's leading authors, including John Irving, James Baldwin, Kurt Vonnegut, Jr., Patricia Cornwell, David McCullough, Neil Gaiman, Khaled Hosseini, Doris Kearns Goodwin, Jacqueline Woodson and Junot Díaz. The 2018 lecture featured Jeff Kinney, the author of the Diary of a Wimpy Kid series.
For more information about the McFadden Lecture or on becoming a Friend of the Library, contact the Library Foundation at 317-275-4700 or visit indyplfoundation.org or indypl.org.