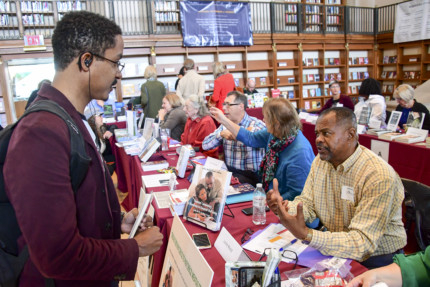 Aspiring writers are invited to enhance their literary skills, learn about the publishing industry, and meet notable Hoosier authors during "Meet an Author, Be an Author" on Saturday, November 9 from 11 a.m. – 4 p.m. at Central Library, 40 E. St. Clair Street.
Attendees can join fellow writers for a day devoted to Indiana's talented authors and participate in free workshops led by local authors and experts from the Indiana Writers Center. In addition, the Indy Author Fair will feature more than 40 up-and-coming authors representing a wide variety of writing styles and genres who will share tips and advice to writers of all skill levels. Book sales and book signings will be available.
Workshop topics will include getting started in writing, keys to writing a novel, the writer's life, self-publishing, writing and marketing children's books, writing flash fiction, starting a writing group, social media marketing, and memoir writing. The day will conclude with a session to review what attendees learned and took away from other workshops.
"Meet an Author, Be an Author" is made possible by Friends of the Library through gifts to The Indianapolis Public Library Foundation.
For more information about this free event, call 317-275-4085.