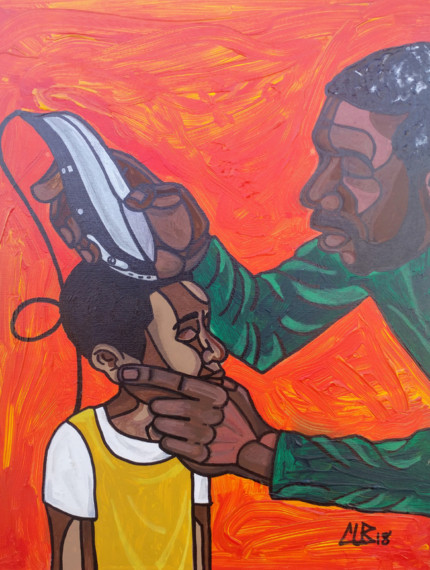 View the works of locally prominent African American artists during one of Indianapolis' premier cultural events, "Meet the Artists XXXI," from January 29 - March 30 at Central Library, 40 E. St. Clair Street. This year's showcase will pay tribute to the founder and curator of "Meet the Artists," Anthony Radford, who is credited with shepherding the exhibit's growth and popularity during its 31-year staging.
This year, 11 artists will make their "Meet the Artists" debut. These include Mechi Shakur (acrylic), Anthony Armstrong (abstracts/photography), Ayanna Tibbs (mixed media), Mr. Testimony (jewelry), Aaron Jones (collage), Quiana Quarles (acrylic), Chrystopher Burns (acrylic), Shawn McClendon (mixed media), Tyrone Thomas (photography), Mary E. Clark (knitting/crochet), and the late Carolyn Irene Bell (graphite - presented in her honor by daughter Michele Winston). Nine artists who are part of the "WE ARE Indy Arts Group" will also display works. These include Latoya Marlin (acrylic), Gary Gee (acrylic/ceramics), Omar Rashan (acrylic), Bruce Armstrong (acrylic/mixed media), Saundra Holiday (acrylic/denim accessories/jewelry), Rebecca Robinson (acrylic/mixed media), Deva Courtney (jewelry/collage), Winterbourne Lapucelle Jones (mixed media/installation), and Anthony Radford (mixed media).
The entire community is invited to mingle with the artists and enjoy an evening of cultural entertainment during the "Meet the Artists XXXI Gala Reception" on Saturday, February 9 from 5:30 - 10 p.m. at Central Library. The Gala, which will include special performances, popular fashion show, author appearances and activities for children, will feature a special presentation by Federal Judge and Indianapolis native Tonya Walton Pratt.
As part of the overall "Meet the Artists" exhibit, Gala attendees are also encouraged to view special art works created from reclaimed objects by students with Matchbook Learning at Wendell Phillips School 63 and Providence Cristo Rey High School.
The general public also is invited to the "Meet the Artists XXXI 4th Friday Celebration" on Friday, March 22 from 6 - 9 p.m. at Central Library. The event will include tours of the "Meet the Artists" exhibit, painting demonstrations and programs presented by participating artists, and more.
"Meet the Artists XXXI" is made possible by the Christel DeHaan Family Foundation and Friends of the Library through gifts to The Indianapolis Public Library Foundation. It is presented by the Library's African American History Committee in support of the Center for Black Literature & Culture at Central Library.