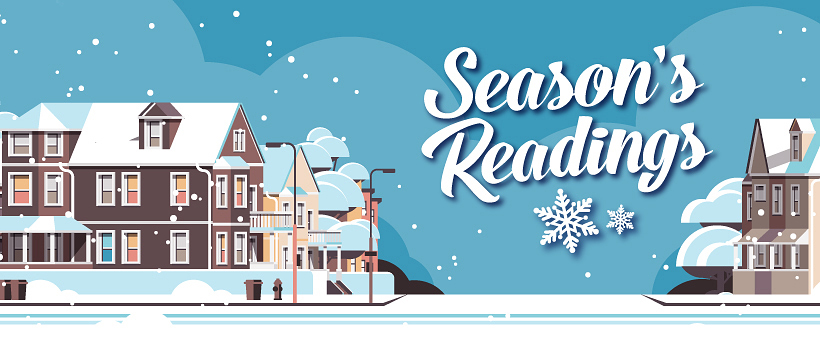 Books make great gifts for any reason: a birthday, a holiday, celebrating milestones, or doing something especially helpful or kind. Pick up free book gifts for kids at The Library! Look for Season's Readings bins December 1 - January 7 at all our locations and then:

Choose children's books to take home for free. (Free gift wrapping stations will be provided at most sites.)
Donate new or gently used books.
Do both!
Why do kids need books at home?
Research shows that growing up surrounded by books helps children develop essential skills. Learning to read and opportunities to practice reading are both critical, but access to books and stories do even more. Living an experience from the point of view of someone else, for example, helps children develop empathy, which impacts a child's ability to make friends, care for others, and understand how ones own decisions and actions affect others.
A library card and routine visits to the library are a great way to provide children with a steady stream of new and interesting books. Beyond a library card, there are more great ways to collect and keep books in your home. Here are 4 of our favorites!
1. Get your child a library card and check out books, e-books, audiobooks & more!
For our youngest readers we suggest checking out a Bunny Book Bag already full of 15 picture books OR a Baby Bunny Book Bag full of 10 board books.
When you are on vacation, running errands or just away from home, read along stories are a great way to fill what can be hours of waiting into a lot of fun! Alouds includes old classics like Where the Wild Things Are as well as newer favorites like Welcome to the Party and Areli is a Dreamer. Click on a book jacket and go straight to a video read aloud! 500+ Free e-Books and Video Read Alouds for Kids offers even more! Find performances from favorite actors, listen to and see stories performed in American Sign Language, or listen to stories read by astronauts on the International Space Station!
3. Visit Little Free Libraries, year-round "take a book, return a book" free book exchanges.
You have probably seen these as you drive around your neighborhood. You can see a map of Little Free Library locations in Indianapolis on their website. You can even enter your zip code to find the Little Free Libraries closet to you! Indy With Kids has a great article to help you get started finding some - Can You Find a Little Free Library?
4. Not free, but also a good deal, go to one of Indy Library Store's book sales.
See the schedule of sales. The store is located inside the Library Services Center. Most books are $.25 - $4.00. Indy Library Store also sells online. Learn more about Indy Library Store.
Season's Readings is a project of The Indianapolis Public Library, the Office of Indianapolis Mayor Joe Hogsett, and Sondhi Solutions.