Immigrant Welcome Center (IWC) is a great resource for the Indianapolis community. The Library is honored to share space with IWC at Central Library. The mission of IWC is to be a trusted partner and advocate for all immigrants. They support this work through programming and working with community partners and local leaders to offer programs and services that address the following focus areas: Immigrant and Refugee Support, Naturalization and Legal Assistance, English Language Literacy, and Community Partner Support. See specific program details below.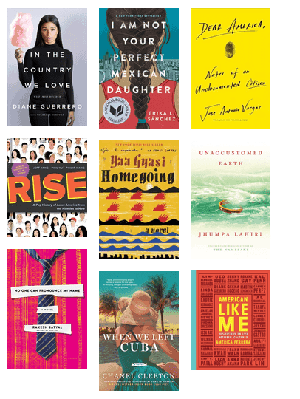 One way to get involved is to help the Immigrant Welcome Center celebrate Welcoming Week! IWC is celebrating Welcoming Week in partnership with the Ad Council and the American Immigration Council's Center for Inclusion and Belonging. Welcoming Week is an annual campaign and celebration to showcase the movement of communities striving to be more welcoming places for all, including immigrants. Welcoming Week 2022 was held September 9-18 and the theme is "Where We Belong."
Celebrate the 10-year anniversary of Welcoming Week! We are honored to represent Indianapolis in this national effort to make our cities welcoming for our immigrant neighbors. One way to honor our immigrant neighbors is to read! Enjoy these book recommendations provided by the staff of the Immigrant Welcome Center.
Immigration and Refugee Support
IWC supports immigrants and refugees through

IWC Connect, our online database, and multilingual language helpline. IWC Connect, available in 200+ languages, includes searchable resources such as, food, housing, health, transportation, and more by language preference and documentation requirements, two critical points for immigrants and refugees in Indianapolis.
a multilingual language helpline in partnership with LUNA Language Services, a critical resource in assuring real-time language access to those that reach out to request assistance.
our Natural Helpers Program which consists of volunteers who assist immigrants and refugees transitioning to life in Indianapolis. Our Natural Helpers, many of whom are immigrants themselves, help ensure our immigrant community members can be heard and helped by those who have gone through a similar journey.
Naturalization and Legal Assistance
We prepare immigrants for their journey to citizenship through
a nine-week course focused on preparing for citizenship test
free support to complete the N-400 application in collaboration with our partner at CitizenshipWorks
naturalization clinics with volunteer attorneys from Neighborhood Christian Legal Clinic, Indiana Legal Services, and other volunteer legal services providers.
offer support and referrals to legal services through our helpline. Our support may include assistance with compiling requisite documents; referrals to translation service providers; and navigating the myriad legal forms and applications.
English Language Programs
Our Pathway to Literacy program focuses on creating, providing, and sustaining English classes for those immigrants who are beginning learners. Our research revealed the need for tailored classes for learners with limited schooling and literacy skills, as well as more training for teachers. Our goal is to get these learners to the starting line. Additionally, our English at Work program aims to expand business and public sector support for English language learning opportunities for immigrants at their workplaces. The program will raise awareness of the value of workplace English classes that benefit both the limited-English proficient employees and the employers.
Community Partner Support
IWC's Community Partner Support program offers one-on-one consultations to local agencies that are looking to increase their capacity to assist immigrant and refugee populations. We also provide Navigating Culture and Bias Workshops. These highly interactive and challenging workshops provide organizations with an opportunity to unpack layers of culture, privilege, and power while identifying how these concepts create opportunities to work effectively with immigrants and refugees. The workshops shed light on how we can build belonging communities in Indiana and beyond. Our Power Partner Calls have recently been restructured to work in conjunction with our Reuben Educational Series. A key component of this restructuring involved creating thematic calls and opportunities for deeper engagement with partner organizations through panel discussions.