Are you looking for your next read? We can help!
Recommendations from Our Staff - September 2022
Would you prefer one-on-one help? Call or ask a Library staff member at any of our locations or call, text, or email ask-a- librarian.
---

Talk Like a Pirate Day 2022
Get your sea legs ready! International Talk Like a Pirate Day is September 19, 2022. Here be some new and old favorite pirate picture books for the littlest landlubbers!


Maker Afternoon
At the Learning Curve at Central Library, we love to explore science, technology, engineering, arts, and math (STEAM) through fun hands-on projects. One Sunday each month we invite kids and their families to what we call Maker Afternoon. Join us on September 26! We will provide kids ages 6-17 with an idea for something to make. We will also have materials for you to get creative! Build something, take something apart, or tinker to your heart's content!

Hispanic American Voices for Kids
Explore other viewpoints and journeys in some of these books!
Hispanic Heritage Month
Celebrates Hispanic authors for youth ages 0-12!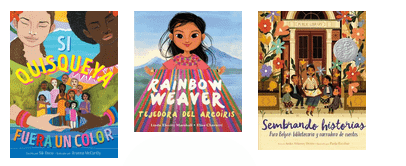 Libros en Español
Libros en Español e Inglés enfocados en la belleza, poder y orgullo de Latinidad. Books in Spanish and English with a focus on the beauty, power, and pride of Latinidad.
Children's Books About Names
Names and how you say them are important! Check out some of these children's books about the significance of names. The titles in this diverse collection address the importance of name meanings, pronunciation, family traditions, cultural standards, gender identity, and choosing how you are addressed.
A Curious Cat Storytime
Fall in love with these fabulous furry felines! Here you can find a fun list of cute cat books to add to your storytime.

My First Plane Ride
Taking a trip by plane can be intimidating or scary for people of any age! But if you have a little one that you want to make sure is ready for their first plane ride, here are some books you can read to them to help ease nerves before the big day!
Hilarious Picture Books for Adults and Kids
Want some picture books that can be silly? What about snarky? Sarcastic? A little tongue in cheek humor? Something that will make the adults reading these books smirk and laugh along with their children?
Favorite Teachers in Chapter Books
Can you name your very favorite teachers? What are the things you like so much about a favorite teacher? Here are some all-time favorite teachers from kids' chapter books. When the librarians in Indianapolis made suggestions for this list - Miss Honey from Matilda was suggested the most often. She gets an A+!

We Don't Eat Our Classmates! 20 Picture Books for Surviving Bullies
Nobody should be mean! That's an important skill to pass on to small children. A teacher, parent or other adult can help children find ways to understand their own frustrations and feelings, which will help them be kinder to others. The books on this list can help children learn how to be kind to their friends or help them learn coping skills if they are being bullied themselves.

Let's Ride the Bus
Whether you ride a school bus or a city bus, it's a great way to get around town. You might make a new friend on the school bus, or discover something new about your city on the public bus. Let's hear it for buses!

Favorite Teachers in Picture Books
Maybe this is the year for a favorite teacher who will be remembered for a long time! Here are some of our favorite storybook teachers. We love them all for so many reasons. They all care, plus they're clever and funny!

Back to School and Eating Healthy
Back to School is definitely here! Getting back into school goes hand in hand with eating healthy. As the learning is taking place ; it is important to have good nutrition.

Starting School
Some great back to school books for kids.

---
For Teens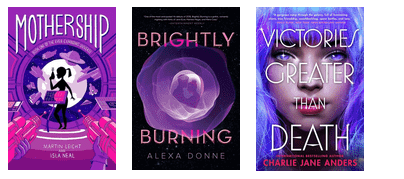 Teens in Peril in Space
Nothing spices up adolescence like killer aliens. Or hard vacuum. Or a sinister interstellar conspiracy.

The Summer 2022 Anime Season Guide
With the heat of Summer bearing down on us all, what better way is there to stay cool than to just stay inside and watch some anime. Luckily, if that is your plan, there are plenty of sequel series to catch up on this season along with a few oddball originals and new adaptations.