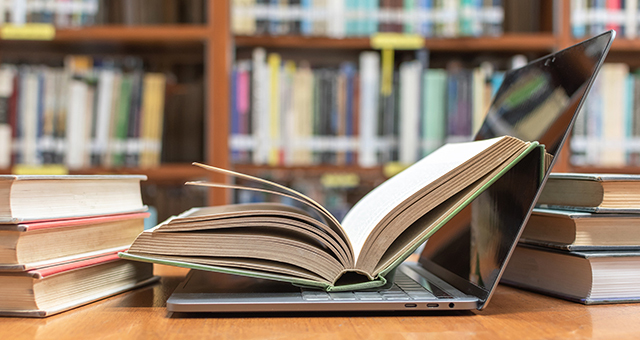 In Our Catalog & Online
The Racial Equity Collection makes it easier than ever for Library patrons to access antiracism and social justice resources.The Library purchased thousands of new materials including books, e-books, audiobooks, DVDs, and Blu-rays. The materials span a wide range of genres, with titles suited for children, teens, and adults.
Digital Indy is the Indianapolis Public Library's digital collection which provides access to digital images and recordings of cultural and historical interest.
Book Club in a Bag is a convenient way for you to get a group of friends together to enjoy reading the same book - lively discussion will no doubt follow! Choose from over 400 titles! There are Book Club in a Bag kits for kids' chapter books too. We'll provide the books, you gather your people and provide the snacks. It's that easy!
At Central Library
The Learning Curve is a high tech, hands-on area designed just for kids, teens, and their families. From story times to art programs, and even an area for teens only, youth may visit the Learning Curve to develop interpretive and critical thinking skills.
The Center for Black Literature & Culture (CBLC) is dedicated to celebrating the vibrant and resilient heritage and triumphs of those born of African roots. The CBLC's collection includes specially selected literature, music, movies, and artwork highlighting the contributions of black icons, specifically those with Indiana roots.
The Nina Mason Pulliam Indianapolis Special Collections Room (ISCR) houses collections of archival materials. These include adult and children's materials by local authors, photographs, scrapbooks, typescripts, manuscripts, autographed editions, letters, newspapers, and magazines.
In existence for over 25 years, the Chris Gonzalez Library and Archives served as a place where LGBTQ+ people could access materials specific to their community. Curated by Michael Bohr, the library was comprised of over 7,000 titles, mostly from donations from community members. In 2017, Indy Pride entered into a partnership with The Indianapolis Public Library to receive most of the book and video materials, curate, and house them at Central Library. IndyPL is committed to growing this collection to make it more inclusive of people of color, women, non-binary, transgender, and lesbian/bisexual/queer/+ authors, as well as people at the intersections of these identities. There are three ways to find items in the collection:
View the Collection in our online catalog.
Visit the permanent display highlighting the Collection in the Simon Reading Room at Central Library.
Items that are a part of the Collection have an identifying bookplate inside.
Newspaper & Microfilm
The Newspaper collection contains a selection of United States and Indiana newspapers including current issues on paper and historic issues on microfilm. Materials do not circulate.
Patent & Trademark Office
The Central Library is designated an official Patent and Trademark Depository Library by the United States Patent and Trademark Office in Washington. Learn more.
Federal Depository Library Program

The Federal Depository Library Program (FDLP) ensures that the American public has free access to U.S. government information through depository libraries. As a selective FDLP library, digital and print federal government resources are accessible through our catalog, Central Library, and the numerous other IndyPL library locations.

Foundation Collection
The Foundation Collection provides visitors access to grantmaker directories, books on fundraising and nonprofit management, and the Foundation Center's electronic databases. The databases include detailed profiles of all active U.S. foundations, as well as an extensive file of recent grants awarded by the nation's top funders.
At our Locations
We provide seeds for check-out as well as education and resources about growing and saving seeds and organic gardening. The Seed Library is open and free to the public at Beech Grove, College Avenue, Decatur, East 38th Street, Garfield Park, Glendale, Haughville, Lawrence, Nora, Pike, Southport, Spades Park, and West Perry.