What does it take to become fluent? How do I get started? Find answers to these and many other language related questions in the apps, books, audiobooks, and videos included in this list of books you can check out with your IndyPL library card. But don't stop there. This is just a sampling of what IndyPL has to offer when it comes to learning about world languages.
---
Mango Language Learning App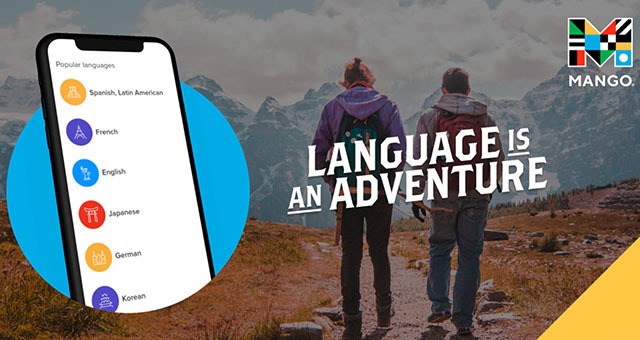 If you have been thinking about picking up a new language, why not try a couple of lessons on Mango? Mango, a language learning app, offers "70 world languages and dialects," which is a really great way to get a feel for a new language.

Mango uses a conversation-based approach by having you listen to a short conversation, then by breaking it down to individual words and phrases. There are several units in each language (People, Travel, Activities, Places, etc). Each unit has several chapters, and each chapter has several lessons. A lot of the less spoken languages have less content. For instance, you will not become proficient by taking about 66 lessons in Thai. Some other languages have specialty units. For instance, you can learn Russian slang while learning Russian.
Each lesson starts off with a simple conversation between 2 people, usually a woman and a man, then you learn each word or phrase from that conversation one by one. I enjoy the feature that allows the learner to record themselves and compare their audio with the native speaker—not that I think acquiring an accent at this stage should be a priority for the learner. However, putting your best efforts into imitating an accent is a way of immersing yourself into the language.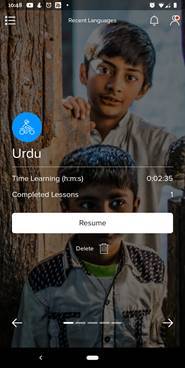 Getting Started on Mango
A small tip to remember when using Mango is to click on the top left hamburger button to return to the main list of languages.
Explore this tutorial to find out how to create an account and use Mango Languages in a browser or in an app on your Android or Apple iOS handheld device or go directly to Mango in your browser here.
Need help? Ask a Library staff member at any of our locations, call the Tinker Help Line at 317-275-4500, or call, text or email Ask-a-Librarian. We can help you connect with materials that will help you learn about the language(s) you want to explore!
I gave Mango Languages a Try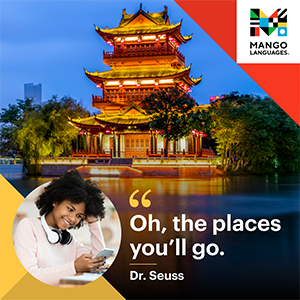 I have always had a great interest in learning foreign languages. From specializing in some to dabbling in others, I learned how satisfying language learning can be. Throughout my college years, I have taken German, Arabic, and Turkish. I also grew up speaking my native dialect of Uzbek, Turkmen, and Russian. Foreign language learning apps like Duolingo, Busuu, Babbel, and Mango Languages have assisted me in bettering my language skills outside of my academic classes. What drew me particularly to Mango Languages app is that Mango is conversation oriented, which was great for my auditory learning.
I have tried Persian, Norwegian, and Thai on Mango. My goal was to try to find out which language lent itself best to my skills. I breezed through Norwegian, because it sounds like English with some other atypical English sounds that I mastered due to my background in Eastern Turkic languages.
Language is a Cultural Adventure
Besides practicing your listening and speaking, you can also learn little cultural notes. Do you want to know what kind of granola (Musli) Germans eat for breakfast? Or did you know how facial expressions and body language can allow you to have almost full conversations with the Turkish people? It is nice to say "Ellerine sağlık!" to someone who created something, like a handcrafted scarf or a homemade meal. It literally translates to "Health to your hands", meaning you wish they continue using their hands to create interesting things. Did you know that in Pakistan a slight nod of the head with a greeting is enough if you are meeting someone from the opposite gender? Learning a language is not a stand-alone activity. It is accompanied with the need to understand the cultural subtleties to become more language proficient.
This Tinker Station blog post was contributed by Shahlo Seidmedova, a Computer Lab Assistant at Central Library. Shay, whose native language is Uzbek, enjoys expanding her skills with languages and helping patrons utilize digital resources to learn and to accomplish their goals.