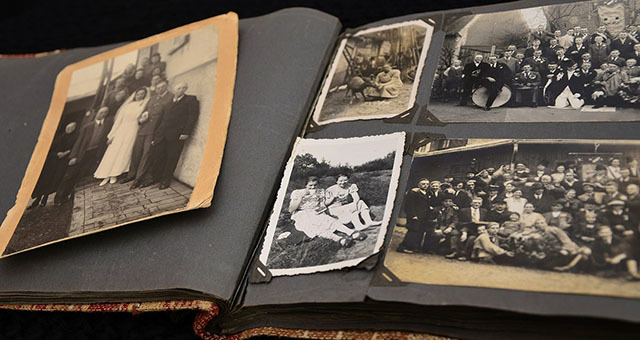 Researching your family tree can be as casual as a porch sitting conversation with your Grandpa or as serious as doing scholarly research or planning a vacation around visiting cemeteries, libraries and local historical societies. This is a guide to help you get started researching your family history from home including links to Indiana and national websites about genealogy.

Upcoming Programs
Beech Grove Lineage Research Workshop - Genealogy
See the schedule
Adults are invited for a free session with representatives from the Samuel Bryan Chapter of the D.A.R. who will provide assistance with genealogy research using Ancestry.com and other online sources. This program will be held in the Library's Technology Room.
Central Library Lineage Societies - A Society for Everyone
Tuesday, September 26 at 10:30 a.m. Register
Join us in-person at Central Library for an illustrated presentation exploring lineage societies: what they are, how to apply, and finding the right lineage society for you.

---
Online Classes
African American Genealogy Video Workshop
Learn basic principals of genealogy for those of African ancestry and other ethnic groups including information about specific challenges and databases. This program will be led by Nichelle Hayes, leader of the Center for Black Literature & Culture at Central Library. Watch now.
Kanopy Great Courses: Discovering Your Roots: An Introduction to Genealogy
Genealogy is a journey of self-discovery that can teach you as much about yourself as about those who came before you. But what holds many of us back from unearthing our family history is uncertainty about how to go about it. Discover which resources you should use and trust, how you should make your way through tangles of public records, and more. There are 15 video episodes that each last about 30 minutes.

---
Research
A lot of research can be done online. Genealogy--searching online for your ancestors is a nice overview of e-materials you can borrow with your IndyPL library card to learn how to use the internet to research genealogy. Listed below are additional online resources collected by IndyPL staff. They regularly help people navigate their genealogical journey and have recommended these sites as good sources for uncovering facts and details about family history.

Search Ancestry Library Edition
You can also use your library card to search Ancestry Library Edition inside our locations. The Library Edition is different from the version a person can buy because it does not have some of the personalization tools such as creating and linking family trees, but you do have access to directories, photos and these two particularly rich sources of information:
Vital records which include birth, marriage, death, will, and probate information.

Census records which include the names of household members, ages, birthplaces, residence, occupation, and more. There has been a US census every ten years since 1790. There is a 72 year privacy restriction so the most recent census available is the 1940 census.
If you have never used Ancestry Library Edition before, you can watch a video tutorial. Two more helpful tips are how to email, print and save records and this link to blank charts and forms.
Newspaper Obituaries
Obituaries are a common source of historical information about individuals. Find out how IndyPL can help
Digital Indy
For those wanting to know about Indianapolis history the Digital Indy collection is a treasure trove. It includes digital images and recordings of cultural and historical interest to Indianapolis residents as well as students, researchers and others. There are digital copies of high school yearbooks, local postcards and all kinds of interesting photos and documents. Maybe you can find a relative's picture in the Indianapolis Firefighters Museum Collection.

Indiana State Library Genealogy Division
Home to one of the major genealogical collections in the Midwest. The site includes a virtual tour, e-mail reference requests, and a list of independent researchers.
Allen County Public Library Genealogy Gateway
Located in Ft. Wayne, Indiana, Allen County Public Library houses one of the largest genealogy collection in the United States.
Indiana Genealogical Society
In addition to preserving materials related to the early settlement of Indiana, the Society also aids in the publications of family histories and researches family migration in the state.
Genealogical Society of Marion County
A chapter of the Indiana Genealogical Society, this society maintains a directory of cemeteries in Marion County, and a guide to Marion County church records in their site's Marion County Data section.
Cyndi's List of Genealogy Sites
Gateway access to thousands of links arranged by category.
Family Search
Established by the Church of Jesus Christ of Latter-Day Saints, this site offers access to the largest collection of genealogical data.
U. S. Genealogy Web Project
Categorized by state and county -- one of the best basic sources.
The Society of Indiana Pioneers
Composed of people who are descendants of the early settlers of Indiana.
The National Archives
The National Archives offers resources for genealogists and family historians originating from every branch of the Federal government.
Indiana State Library Cemetery Locator File
Indiana African American Genealogy Group
Promotes the accumulation and preservation of African American genealogical and historical materials.
Need help? Ask a Library staff member at any of our locations or call, text or email Ask-a-Librarian.